Choose from four different Christmas Tree Farms near Bloomsburg during your holiday getaway to Northeaster Pennsylvania this year. All are less than 5 – 20 miles from The Inn, Farmhouse, and Brewing Co. at Turkey Hill, so it's easy to have fun choosing a freshly cut Christmas Tree to bring home with you. Choose to cut your own or let the tree farm do it for you – they'll cut, shake, drill and bail (compressing branches for easier transport home) your tree for free! Don't forget the tree farms have plenty of wreaths, swags, and holiday décor for sale. You'll usually be invited to enjoy free holiday refreshments like hot chocolate and cookies, too!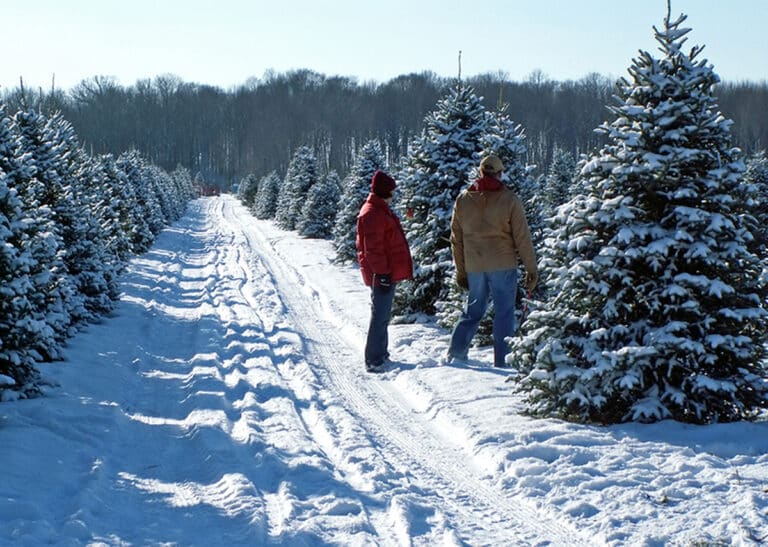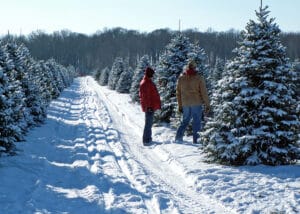 Ecology III Christmas Tree Farm provides the following descriptions of different trees:
Fraser Fir has soft, emerald green needles with silvery undersides are about 3/4″ long. It has sturdy branches, a bottlebrush texture, and good needle retention.
Douglas Fir has lush, blue-green foliage with needles about 1″ long. It has sturdy branching and excellent needle retention.
Blue Spruce is the state tree of Colorado, discovered on Pikes Peak in 1862. It generally has silvery blue foliage and is a popular choice.
Concolor Fir is native to the southwestern U. S. It has soft, silvery-blue foliage with flattened needles that are 2-3 inches long. The tree's color, excellent needle retention, and citrus aroma make it an increasingly popular choice.
Experts say to enjoy taking time to look at different trees to be sure you find the perfect one for you. If you cut your own, be sure to have a long enough trunk to fit into your tree stand!
Choose from Douglas Fir or Fraser Fir trees at nearby Bloomsburg Christmas Tree Farm. They provide saws if you wish to cut your own, or they will cut it for you. Douglas Firs are $5 per foot and Fraser Firs are $7 per foot. They also have fresh wreaths, log snowmen, owls, reindeer and grave angels available.
Days and Hours: Fridays, Saturdays and Sundays from 8:30 am – 5:00 pm beginning November 16, 2018.
Location: 198 Mainville Drive, Bloomsburg, PA Phone: 570-759-8881
Guests will find Ecology III Christmas Tree Farm less than seven miles away from the Inn in Orangeville, PA. Their Tree Farm has selections of Frasier Fir, Douglas Fir, Colorado Blue Spruce, and Concolor Fir trees plus fresh wreaths and swags. They also have some special 'Charlie Brown' Trees selected by elves who everyone to have a real Christmas tree. You can adopt a tree from their Charlie Brown selections for $5.00 – $20.00.
Days and Hours: Thursdays – Sundays from 9:00 am – 5:00 pm beginning Thanksgiving Day, November 22, 2018.
Location: 122 Savage Hill Road, Orangeville PA Phone: 570-683-5275
Ponduce Farms, about 15 miles from Bloomsburg, specializes in Douglas Fir ($25.00, 9ft-over $35.00) and Fraser Fir ($35.00, 9ft-over $45.00) trees to cut, plus Douglas, Fraser, Blue Spruce, Concolor pre-cut trees, as well as swags and wreaths. They offer free hayrides to the tree field, free pictures, and show Christmas TV shows from the 50's. The Wreath Barn Gift Shop features gift items and holiday décor.
Days and Hours: Wednesdays – Sundays from 8:00 am – 7:00 pm.
Wreath Barn Gift Shop: Saturdays – Sundays from 10:00 am – 7:00 pm until November 12, Daily from 10:00 am – 7:00 pm November 12 – December 23, 2018.
Location: 270 White Church Rd. Elysburg, PA Phone: 570-799-0376
Kohl's Stony Creek Tree Farm in Milton, PA, is located about 20 miles west of the Inn. You can choose from Douglas Fir, Frasier Fir, Concolor Fir, or Blue Spruce trees, plus wreaths, greens, centerpieces, and more. Their Christmas Shoppe stocks over 100,000 ornaments! Pre-season tree tagging is available beginning September 1.
Ugly Ornament Sale November 5 – 14, 2018. We have chosen at least 60 Ugliest Ornaments in our store. When anyone purchases one of these ornaments, they will get 30% off their entire purchase excluding Crafter Items.
World Record Party November 17, 2018, to celebrate achieving the Guinness World Record for the Largest Collection of Tree Stands (1199)!
Open House November 23-25, 2018. Check Facebook For Santa Arrival & Santa Hat Days.
Christmas Shoppe Days and Hours: Mondays – Saturdays from 8:00 am – 8:00 pm; Sundays from 9:00 am – 6:00 pm. November 5 – December 23, 2018Location: 3319 Mexico Road, Milton, PA Phone: 570-437-3442
We know there's a special Christmas tree at a Tree Farm near here that's just waiting to go home with you for the holidays. Let us help you start celebrating the season with a getaway soon – give us a call at 570-387-1500, or go online to make your reservation.