It doesn't get much better than running through the
beautiful river valley connecting Danville, Catawissa and Bloomsburg. It's
ideal for those watching to, so no wonder the
River Towns Marathon and Half-Marathon
, held this year
on May 2, are always such a popular event.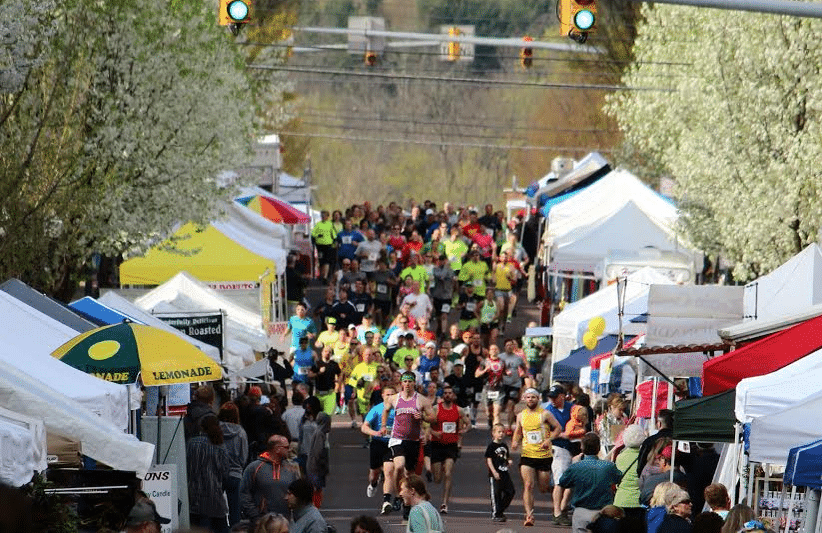 Photo: Montour Area
Recreation Commission
If you'd like to come, The Inn,
Farmhouse and Brewing Co. at Turkey Hill makes a handy base for the weekend—and
you can't beat the cold beers in the Pub after a day at the races!
Both the Marathon and Half-Marathon start in Danville and
follow and out-and-back route. The Marathon takes runners through Danville's historic West Market Street neighborhood and out
of town along tree-lined River Road/Legion Road to Cantawissa, then along
trails and back roads to downtown Bloomsburg. Once there, runners will retrace
their steps back to Danville. This is a pretty route, but it can be a challenge
as a 1.45-mile stretch is on a dirt road and grass-covered canal tow path. Those doing the Half-Marathon follow River Road
to the Montour-Columbia county lines, then return by this same route to
Danville.
River Towns Marathonand Half Marathon
Saturday, May 2, 2015
Marathon: 7:00 a.m.;
Half Marathon, 9:00 a.m.
Start/finish location:
Montour County Courthouse
29 Mill Street,
Danville
Prices through 4/2/15:
Marathon, $85; Half Marathon, $65
Registration closes
4/2/15. No day-of-race registration.
Runners and their
families and friends can enjoy a delightful post-race afternoon poking around Danville,
which has great little restaurants and shops. During this weekend, there will
also be nearly 200 regional vendors selling food, arts and crafts.
After all that running and partying, a nice relaxing evening
at The Inn at Turkey Hill will sound
pretty good!