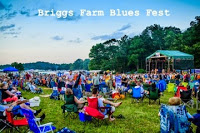 The
Briggs Farm Music Fest
has all the makings of a great
summer fest: thousands of appreciative fans, a fun outdoor atmosphere and, best
of all, quality music. The open-sky location, which is about a
20-minute drive form the Inn, is a
perfect setting to relax and enjoy a great lineup of national, regional and
international blues acts. Some of this year's performers include the Devon
Allman Band, Teeny Tucker, Danielle Nicole Band, Terry "Harmonica" Bean with
the Cornlickers and Bobby Kyle. Check out the fest's website for a full listing
of performers and times.
This year proves be another great weekend of blues.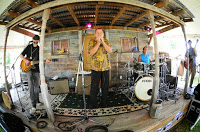 Photo by Studio D
Courtesy of Briggs Farm
The
fest takes place in the 350-acre Briggs family farm in Nescopeck, PA, filling
two evenings with a great lineup of music. So bring your coolers (the event is BYOB) and lawn chairs and get set for a good time.
And don't forget, where there's great blues, you're going to
find some mighty fine barbecue too. This year, in addition to a special
Mississippi Delta Blues menu of slow-cooked meats, blues superstar Lonnie
Shields will personally be slow-cooking ribs, pulled pork, sausage and chicken.
Word has it, his foods is as smokin' as his Southern-infused music. Fans will be happy to know Briggs Farm will
also be serving their farm-fresh roasted sweet corn, a perennial favorite with
the crowds.
If you'd like to see more of the farm while you're there, hop
on the Blues Hay Ride to get a tractor and wagon tour of the place.
July 10-11, 2015
Briggs Farm
88 Old Berwick Highway, Nescopect
Friday: concert field opens at 2:00 p.m., music begins at
2:00 p.m.
Sunday: concert field opens at 12:30 p.m. ; music begins at
1:30 p.m.
570-379-3342
This is one of the more popular events in the area and one
of our busier times, so be sure to call soon to book your stay. Then after the
last act, you can head back to the Inn and continue the fun in our Brewpub, or
unwind from it all on your patio.