Over the years Little League has played a big role in so
many lives, including quite a few of the staff at our Inn! That's what makes a
visit to the
Little League Museum
in South Williamsport such fun—you can
picture yourself in the game as you wander through the exhibits.
Little League was founded 75 years ago, and has since become
the world's largest organized sports program. The Museum opened in 1982, and
has been a popular destination ever since.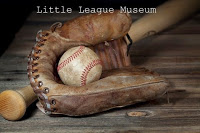 Using hundreds of artifacts and archival materials, the
Museum tells the history of the League, as well as how it has meshed with U.S.
and world history throughout the years. To get the full experience, visitors
can take a self-guided tour that is based on a six-inning Little League game.
Exhibits and immersive media recant the League's mission and its broad
influence in the lives of communities.
Be sure to stop at the Official Little League store before
leaving the Museum. It's a great place to find a souvenir or special gift for
the baseball fan.
525 US-15, South Williamsport (about a 45-minute drive from
The Inn, Farmhouse and Brewing Co. at Turkey Hill)
Open daily, 9:00 a.m.-5:00 p.m.
Closed on January 1, Easter Sunday, Thanksgiving, December
24-15, 31
General admission, $5; seniors 62 and older, $3; children
5-12, $2; children under 4, free
Admission free current Little Leaguers who are wearing a
shirt with the Little League® Official Shoulder Patch
570-326-3607
We may not have a baseball diamond at The Inn, Farmhouse and
Brewing Co. at Turkey Hill, but we do have plenty of places to gather, have a
cool drink and tell baseball stores! Give us a call—we'll be happy to help you
plan a stay.