We get a lot of families visiting at The Inn, Farmhouse and
Brewing Co. at Turkey Hill, and so we're always on the lookout for venues that
all ages would enjoy. The
Historic Penn's Cave & Wildlife Park
is just such
a place. It's got adventure, wild animals, educational tours and almost a
guaranteed good time.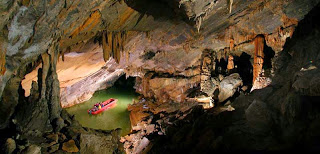 Photo courtesy of Penn's Cave and Wildlife Park
Penn's Cave and Wildlife Park is just off I-80, so it's an
easy drive from the Inn. Head out after breakfast and you can spend a full day
there exploring. Local history says the caves found here were used by Native
Americans and early explorers as dry rooms for shelter. Located in the
topographic region of Pennsylvania known as the Ridge and Valley section of the
Appalachian Highlands, the Penn's Cave area is defined by a large number of
caves, springs, sinkholes and surface streams that disappear underground. It's
the only cave in Pennsylvania listed on the National Register of Historic
Places.
Today visitors can explore this area with a variety of tours
and activities.
Cave Tour. A 45-50
minute boat tour of the water cavern includes eerily familiar shaped
stalactites and stalagmites, such as The
Statue of Liberty and The Garden of
the Gods. The boat winds through cavern passageways and, weather
permitting, also includes a ride on Lake Nitanee.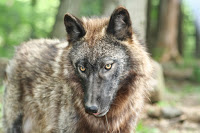 Photo courtesy of Penn's Cave
and Wildlife Park
Farm, Nature & Wildlife Tour. A 90-minute guided bus
tour through the 1,600 acres of Penn's Cave grazing pastures, mountain trails and
forest. Visitors will learn about the geology, biology and geography of the
area, and will be able to view wolves, bobcats, bison, mustangs, bighorn sheep
and the Penn's Cave icon, the mountain lion.
Cave Rock Mountain Tour. A guided, 2 ½-hour off-road
adventure that includes nature's own obstacles, moguls, ravines and spectacular
mountain views.
Prospector Pete's Miners Maze. Enjoy getting lost in a
4,800-square foot labyrinth with lots of fun twists and turns. Not to worry, the
maze has four check stations too!
Gemstone Panning. Wanna-be miners can try their luck with
bags of pre-mixed gem sand, each one containing semi-precious stones, fossils or arrowheads.
Be sure to check Penn's Cave website for specific tour
information and times.
When hunger strikes, the Cave Café is a nice option for lunch or you can enjoy a
picnic on the grounds.
Historic Penn's Cave
& Wildlife Park
222 Penn's Cave road, Centre Hall
814-364-1664
April 1 – May 31, 2015: open daily 9:00 a.m. – 5:00 p.m.
June 1 – August 31, 2015: open daily 9:00 a.m. – 7:00 p.m.
September 1 – October 31, 2015: open daily 9:00 a.m. – 5:00
p.m.
November 1-30, 2015: Open daily 10:00 a.m. – 5:00 p.m.
December 2015: open weekends only, 11:00 a.m. – 5:00 p.m.
Both Cavern & Wildlife Tours:
Adults, $31.95; Seniors 65+, $30.95; Ages 2-12, $17.50;
Under 2 years, free
Cavern Tours only:
Adults, $17.95; Seniors 65+, $16.95; Ages 2-12, $9.95; Under
2 years, free
Wildlife, Farm & Nature Tours:
Adults, $21.00; Seniors 65+, $20.00; Ages 2-12, $12.95;
Under 2 years, free.
While we're all for adventure, The Inn, Farmhouse and
Brewing Co. at Turkey Hill prides itself on the restful side of life, so
it's a great place to spend the night after your eventful day. Give us call!