Get your engines ready! It's time for weekends of racing at
Pocono Raceway, with nights of relaxation at The Inn, Farmhouse and Brewing Co.
at Turkey Hill.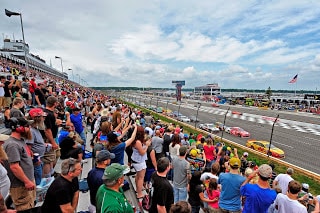 Photo courtesy of Pocono Raceway
This summer, Pocono Raceway will host two NASCAR Sprint Cup
Series (NSCS), with top drivers and all the thrills that make this one of the
area's top sport-watching events. Both weekends will feature NASCAR's top
touring series as well as the ARCA
Racing Series presented by Menards (ARCA).
June 5-7, 2015
Friday: NSCS and ARCA Practice and Qualifying
Saturday: NSCS Practice and Pocono 200 ARCA Race
Sunday, Pocono 400 NSCS Race
July 31-August 2, 2015
Friday: NSCS
and NCWTS Practice, NSCS Qualifying, and ModSpace 125 ARCA Race
Saturday:
NSCS Practice, NCWTS Qualifying and Pocono Mountains 150 NCWTS Race
Sunday:
Pennsylvania 400 NSCS Race
Check
the
Pocono Raceway website
for ticket information, race times for the specific events, as well as
pre-race entertainment schedules.

The Inn at Turkey Hill
If you're staying with us at The Inn at Turkey Hill (which
we hope you do!), the Raceway is a straight shot up I-80 towards Blakeslee
(exit 284), then just 3.2 miles south on PA-115. After a long day at the races, you can come back and chill out with a cold brew and a juicy organic grass-fed burger at the Turkey Hill Brewing Company Pub and Grill.
The racing series is a big draw,
so give us a call soon to book a room.