Some of the most beautiful sights to see in the area around
our Inn, are impossible to get to in a car. But you can easily explore them on
horseback, and have a great time doing it.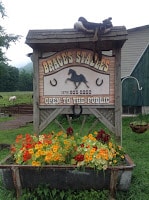 Photo courtesy of Braces Stables
So we suggest you head on over to BracesStables, a respected local company that knows the area inside and out, as do their hard-working horses.
The company is located near Ricketts Glen State Park, and
the trails they've chosen for guided rides guarantee you'll see some gorgeous
sights, whether riding along a creek or through the mountains.
Guests can choose from among three rides, ranging from four
miles to six miles, one hour to four hours. The most popular of the trio is the
1.5-hour Mountain Ride, a peaceful trek follows an old logging trail through
the woods, opening up to stunning vistas.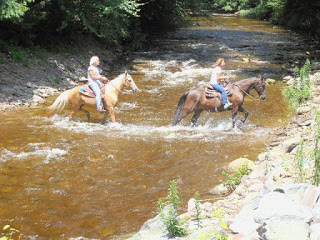 Photo courtesy of Braces Stables
The 4-mile Creek Ride takes you along
Fishing Creek on a nice shady road. Half the fun is that you get to cross the
creek several times, feeling just like a movie cowboy or cowgirl. The longest
of the treks, the 6-mile Falls Ride, carries you along a route climbing up the mountain to Sullivan Falls. Once at the Falls, everyone dismounts,
giving the horses a little break and riders a chance to take in all the beauty
surrounding them.
Before every tour, Braces Stables makes sure that riders are
matched with the best horse for their size and ability. Your guide will also provide
basic riding instructions prior to leaving, and will be there to help you along
the way. And all too soon, it will be over, but not before many occasions for
great selfies with you and your horse!
62 Jamison City Road, Benton
570-925-5253
Mountain Ride:
Monday – Friday, 10:00 a.m., 12:00 p.m., 2:00 p.m.; Saturday
– Sunday, 10:00 a.m., 12:00 p.m.
$40/person
Falls Ride:
Daily, 9:00 a.m.
$50/person
Creek Ride:
Monday – Friday, 10:00 a.m., 12:00 p.m., 2:00 p.m.; Saturday
– Sunday, 10:00 a.m., 12:00 p.m.
$35/person
A horseback trip is one more way to enjoy the beautiful
country of North Central, PA. Another way, of course, is to book a room at the
Inn! Give us a call—we'd love to help you plan your stay.