We love it when Inn guests ask us where to find a nice hike,
because we have so many options to tell them! Our area is loaded with great
places to head for an easy walk or a longer trek. So lace up those shoes and
boots and read on.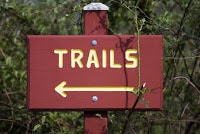 Perhaps the closest to us is the
Columbia County SusquehannaTrail
, a delightful eight-mile stretch that is popular with bikers and walkers.
The trail, constructed on a former rail line, connects four towns, and the
Upper Susquehanna and Lackawanna Watershed American Heritage Rivers Area as it
passes through parks and past points of interest. You can enter and exit the
trail from numerous locations, including at the Town Park in downtown
Bloomsburg.
If you head to nearby Danville, you'll find the country's
oldest Rails-To-Trails project:
J. Manley Robbins Trail
. This relatively flat
trail forms a short loop that comes in at just under 3.5 miles, making it a
good choice for those just wanting to get in some exercise. The path takes you
over a rustic covered bridge and offers several side trail options along the
way. A good place to begin the trail is at Hess Field Park Complex in Danville,
where you'll find plenty of parking and restrooms.
Also in Danville is the
PPL Montour Preserve
, a nature and
recreation area that covers 1,000 acres and has 14 miles of trails. Stop by the
Visitors Center before heading out on your hike. Not only can you get trail
info there, but you can take in the wildlife and history displays, see wildlife
observation areas, a Planet walk and fossil collection site. The area is
managed by the Montour Area Recreation Commission, a mostly volunteer group
that works to provide and maintain great recreation space within Montour
County.
PPL Montour Preserve
700 Preserve Road, Danville
570-437-3131
Open daily dawn till dusk
The grand daddy for hiking is definitely
Ricketts Glen StatePark
. 26 miles of trails provide hikes ranging from fairly flat to very steep
and scenery that includes free-flowing waterfalls, 22 of which are named. The
largest of these is Ganoga Falls, an impressive 94-footer. Trails go through an
old-growth timber forest where you might just see a deer en route. For an
easier hike—but one that is pretty and interesting—the 1-mile Evergreen Trail is
delightful, and it takes you through one of the few stands of old growth forest
in Pennsylvania. If you're looking for a
challenge, the full loop of the Falls Trail covers 7.2 miles, offering
spectacular views and 21 waterfalls ranging from 11 to 94 feet.
Ricketts Glen State Park
695 State Route 487, Benton
570-477-5675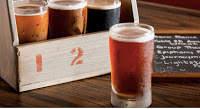 Some of the best months of all for hiking this area are now
through the fall, so why not check your calendar and find a good time to stay
at the Inn? After a day out on the trails, you can head back here and relax.
There'll be an cool beer or glass of wine waiting for you in the Brew Pub!