It's just a few weeks before the season opener on September
5, 2015, and for fans of
Bloomsburg University football
, it can't come soon
enough. If you have tickets or are thinking of coming, be sure to book your
rooms at the Inn soon—we get busy on home game weekends!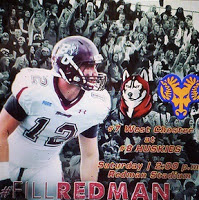 Photo courtesy of Bloomsburg University
The Huskies are getting a lot of attention already, with
center Ryan Geiger named a Preseason All-American by The Sporting News, and the team ranked number four in the Lindy's Sports NCAA Division II Top 25.
Finishing last season with an 11-2 record, the team made their third straight
trip to the NCAA playoffs. And our superb 142-36 record over the past 15 years
is the best of any team in the Super Region 1 Program.
But we already knew they were great, right?
That's why home game weekends are such a big deal around
here. Alumni and locals join students in town for game day, and it's always a
fun time. Games are played at Robert B. Redman Stadium, located on the upper BU
campus. But much of the activity starts early in the Husky Tailgate Zone, an
exclusive parking and pre-game area designated by BU. If you're up for that,
you can fill out an
application at the BU Huskies website
. Football rival,
Stonehill, will be the first home game on September 5, 2015. Homecoming this
year is October 15, pitting the Huskies against Kutztown.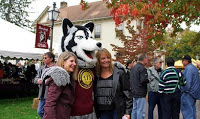 Photo courtesy of Bloomsburg University
While at the game, be sure to keep an eye out for Roongo—he's
the loveable Huskies mascot. The husky was chosen as the school's mascot in
1933, so deemed because of the dog's noble qualities. The name is in
recognition of the University's maroon and gold colors.
Bloomsburg University
Robert B. Redman Stadium
400 East Second Street, Bloomsburg
570-389-4000
2015 Home Game Schedule
Saturday, September 5, Huskies vs. Stonehill, 2:00 p.m.
Saturday, September 19, Huskies vs. Mercyhurst, 2:00 p.m.
Saturday, October 3, Huskies vs. Cheyney, 2:00 p.m.
Saturday, October 17, Huskies vs. Kutztown, 2:00 p.m.
Saturday, November 7, Huskies vs. Lock Haven, 2:00 p.m.
Saturday, November 14, Huskies vs. Seton Hill, 12:00 p.m.
Come visit us at the Inn for football weekends, and after
the game head to our Brew Pub for drinks and some post-game camaraderie. It's
what's fall is all about!