If you're itching to spend a leisurely day fishing, you've
come to the right place! Our region is home to beautiful rivers and lakes swimming
with fish. Start your morningwith a hearty breakfast (we've got you covered
there!), then head out to test your skills. Here are a few places that
consistently rate high with anglers.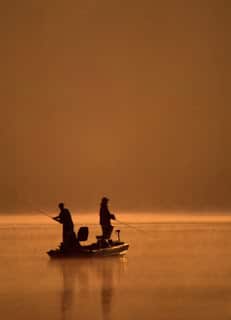 The
PPL Montour Preserve
in Danville is where you'll find
Lake Chillisquaqua. The 165-acre reservoir, built on the middle branch of
Chillisquaqua Creek has been developed as a prime spot for fishing. Top species
include northern pike, largemouth bass, bullhead catfish and walleye, in
addition to other popular fish. Come early, stay late—the Lake has 24-hour
access yearround. Fishing maps are available at the site's visitors
center.
PPL Montour Preserve
700 Preserve Road, Danville
570-437-3131
Located just outside of Danville, you'll find two of the
more popular spots, Mahoning Creek and Mauses Creek. Both are tributaries of the
Susquehanna River and they're well-known for trout fishing.
The
Susquehanna River
, the 16th largest river in
country, provides a wealth of fishing and some of the prettiest settings too.
Bass, Muskellunge, Northern Pike, Walleye and more species are found here.
There are good access points in both Montour and Columbia Counties. In
Bloomsburg, you can enter at the Town
Park at Fort Mc Clure Boulevard, as well as off of Airport Road. In Berwick,
head to Test Track Park on Ruhmels Lane. And in Danville, you'll find access
either from Borough Montgomery Park or off of River Drive.
Just 30 miles north of Bloomsburg is
Ricketts Glenn StatePark
, where Lake Jean provides another great haven for warm water game fish and
pan fish. If you've got a canoe or rowboat, it's an ideal spot to head out and drop
a line. The 40-acre Mountain Spring Lake, owned by the Pennsylvania Fish and
Boat Commission adjoins the east end of the park, and you can also find trout
in several creeks tthat run through the park.
Before heading out, check with our great front-desk staff
and they can give you directions to any of these locations. When you return, stop
by our Brew Pub and you can compare fishing stories over a cold one!