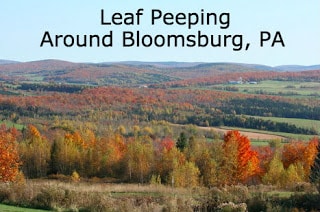 You can drive through the area surrounding our Inn any season and it's beautiful, but come autumn, it's near breathtaking. Roads are lined with brilliant hues, hardwood forests are dappled in golds and reds, and the crisp fall air is perfect for an outing. So pack the car and come for a visit. We know you'd love these outings.
The first is a circular tour that begins in Bloomsburg. Start off by driving north on Route 487 and you can enjoy a leisurely drive along Fishing Creek, passing through Orangeville and Benton to Route 118. This pretty route takes you west along Huckleberry Mountain (color abounds!) where the road meets up with Route 42 South through Melville and on to Buckhorn. Once in Buckhorn, you could continue on Route 44 through Jerseytown and Exchange, and meet up with Route 54 South to Danville. This pretty river town would be a great lunch stop. After lunch, head over to Route 487, and continue your drive past Catawissa and back into Bloomsburg.
One of the joys of driving through Columbia and Montour counties is seeing all of our covered bridges. We have 25, and in the fall they become even more picturesque. Ask at the Inn's Front Desk and they'll be able to give you a Visitors Bureau guide and map for the bridges. Not only can you enjoy a lovely drive through the colorful countryside, but by following the guide, you'll also learn about the construction of the bridges.
If you like to combine driving and hiking, Ricketts Glen State Park is ideal. The park covers more than 13,000 acres and is home to some spectacular black tupelo, dogwood and oak trees—some more than 100-feet tall. The park is 30 miles north of Bloomsburg on PA 487, a nice route that takes you past farmland and wooded areas. Once at the park, you've got a wealth of choices for hiking. For those who like a bit of a challenge, the 7.2-mile Falls Trail is a spectacular trek where you'll not only enjoy brilliant color but 21 beautiful waterfalls, ranging from 11 feet to 94 feet. Remember the fallen leaves can get slippery, so be careful!
If you prefer to spend your afternoon enjoying the colorful foliage from an easy chair on a patio, you can do that too back at the Inn. This is always a busy time with leef peeping and BU games, but we still have openings, so give us a call!