For more than 40 years, Bill Morris has been collecting vintage motorcycles and all sorts of memorabilia. The result is Bill's Old Bike Barn, a jam-packed space that celebrates choppers and the good ol' USA. Head out from the Inn after breakfast some day (The barn is less than a 10-minute drive via I-80) and plan to spend the morning.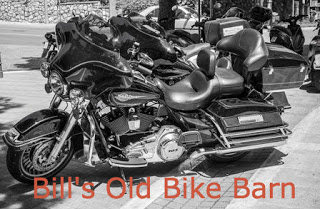 The large green metal structure, which sits in a grove overlooking Bill's original custom cycle shop, is deceiving. Because when you open the doors and walk inside you discover an old 50,000 square-foot barn. Originally built around 1800 in a nearby town, the barn was dismantled piece by piece—no easy task as some of the beams are 40-50-feet long—then transported and reconstructed inside the building. It has a 16-foot ceiling, every foot of which is covered with posters and signs Bill has collected over the years, including a neon Harley sign from Allentown, PA.
Enter the special section called "Streets of Billville," and you'll be transported to a 1930's village with a reconstructed mansion, smoke shop and music store. Here is where you'll also find Bill's collection of memorabilia from the 1939 New York World's Fair, including an authentic Fair Bar.
It's obvious motorcycles are Bill's passion and those who are enthusiasts will have a field day wandering through the classic collection. Check out the 1937 Indian Chief and Knucklehead of the same year. Marvel at the 1941 Police UL and the 1949 Hydra Glide. Between the amazing selection of bikes and tons of bike memorabilia, you could easily amuse yourself for hours inside this old barn.
In addition to bike-centric material, Bill's extensive collection also includes a large military display, complete with a foxhole and 30-caliber machine gun, all covered by a 1940 military parachute.
Bill's
Old Bike Barn is a place that's hard to describe—eclectic, eccentric— and even harder to resist.
7145 Columbia Boulevard, Bloomsburg
570-759-7030
Thursday – Friday, 10:00 a.m. – 6:00 p.m.
Saturday, 9:30 a.m. – 3:00 p.m.
Sunday, 1:00 p.m. – 5:00 p.m.
Why not stay at the Inn, and then check it out? Give us a call and we'll reserve one of our special rooms for you!