Make bread without flour? Or yeast? You bet, and it is downright delicious, thanks to the genius of Columbia County Bread & Granola, a local Bloomsburg business that has all of us in the area spoiled with their ultra-satisfying breads and granola.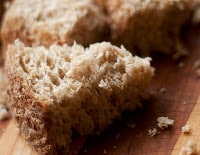 Photo: Danielle DeLeon; courtesy of
Columbia County Bread & Granola
The business began when a few local men who liked to bake set out to improve upon what was out there. With innovation and some great local products, the group of bakers, packers and designers created a successful business and a wonderful selection of rustic breads. Using a sprouted wheat starter—similar to a mash—in lieu of yeast, they are able to make breads that contain no gluten, no dough enhancers and no preservatives.
Columbia County Bread sources mainly organic ingredients such as oats, chocolate cranberries and most of the seeds and grains that go into their breads. They reach out to local farmers for apples, honey and other products as well. And one other thing they do that sets them apart: all the products are made by hand, without the use of machines. The results are noteworthy—earthy breads with honest flavor, such as country wheat and orange poppyseed flatbread, one of several flatbreads the bakery is known for.
In addition, the company makes pita bread and a line of flax granola in a variety of flavors, including ginger chia, apple cinnamon, and pumpkin spice. Inn guests can find Columbia County Bread in our local grocery stores.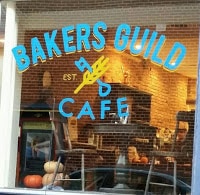 Photo: Kelly O'Brien Gavin; courtesy of
Columbia County Bread & Granola
For a real treat, stop by the Bakers Guild Café, the retail outlet for Columbia County Bread & Granola, located in downtown Bloomsburg. Here you can sample the tasty breads along side great soups or try one of the delicious pizzas, in addition to picking up some packages of granola.
Columbia County Bread & Granola/Bakers Guild Café
225 Center Street, Bloomsburg
570-441-4031
Monday – Saturday, 8:00 a.m. – 4:00 p.m.
Come visit us at the inn and discover this and all the wonderful homegrown businesses in our area!