Scranton, which is about an hour's drive northeast of our Inn in Bloomsburg, was the first city in Pennsylvania with a successful trolley line. It gained the nickname "Electric City" and today that history is on display at the Electric City Trolley Museum.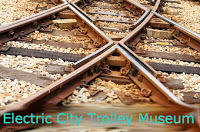 The Museum, which is located on the grounds of the Steamtown National Historic Site, provides a wealth of information on the history of the trolley. In the Interactive Center, which is housed in a restored 19th Century mill building, visitors can enjoy hands-on learning, such as generating electricity to see how it is used for transportation.
Displays offer a history lesson in the extensive interurban trolley network used in that time, including the Story of the Third Rail and other interesting facts. (Who knew that electric trolleys back then could travel up to 75-miles an hour?) Kids can have fun in The Electric City, a hands-on interactive exhibit where they can sit in the operator's seat and even build their own community complete with trolley lines.
And if you're thinking it would be great to be able to actually ride a trolley, you're in luck. During the operating season, guests can hop aboard for an excursion alon the path of the famed Laurel Line electric urban railroad. The scenic route runs alongside Roaring Brook, heads past the Historic Iron Furnaces, and passes through the 4747-foot Crown Avenue Tunnel, one of the longest interurban tunnels ever built.
Electric City Trolley Station & Museum
300 Cliff Street, Scranton
Museum
Daily, 9:00 a.m. – 4:00 p.m.
Closed Thanksgiving, Christmas and New Year's Day.
Adults, $6; Seniors, $5; Children 4 -17, $4; Children 3 and under, free
Trolley
Trips at 10:30 a.m., 12:00p.m., 1:30 p.m. and 3:00 p.m.
Adults, $8; Seniors, $7; Children 4-17, $6; Children 3 and under, free
Combination Museum and Trolley ride: Adults, $10; Seniors, $9; Children 4-17, $8
The museum and trolley ride make a nice day outing from the Inn. When you get back, you can park the car and relax, because everything you need for the evening all right here—including great places for dinner!