The last weekend in January is like Christmas all over again for those who love to outdoor sports. That's when the annual Early Bird Sports Expo comes to the Bloomsburg Fairgrounds, and if you're a fan of activities such hunting, fishing, canoeing or rafting, you'll definitely want to check it out.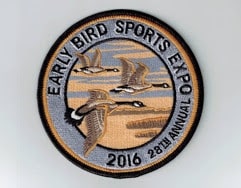 Designer: Ken Hunter

This is always a popular event and it's easy to see why. The expo includes more than 65,000 square-feet dedicated to attractions, activities, seminars and competitions. Expect to find some of the top regional vendors for outdoor sporting equipment, services, venues, food, art, and more.
Enjoy a little competition? You can take part in the 3-D archery shoot, with prizes up to $500. There will also be drawings for cash prizes totally $1,200.00. A variety of food will also be available, including subs, soups, kettle corn, barbeque and pizza.
Early Bird Expo
January 28 – 31, 2016
Bloomsburg Fairgrounds
620 West Third Street, Bloomsburg, PA
Thursday, 4:00 p.m. – 9:00 p.m.
Friday, 10:00 a.m. – 9:00 p.m.
Saturday, 10:00 a.m. – 8:00 p.m.
Sunday, 10:00 a.m. – 5:00 p.m.
$6/person; kids under 12/free; military personnel/free with ID
Senior Day (65+), Friday 10:00 a.m. – 3:00 p.m./$3
Free parking
The Inn makes a great base for those heading to the show—and a great place to hang out afterwards too! Give us a call to book your stay.