The all-time favorite pairing of beer and pizza is star of
the show at
Berwick Brewing Company
. The brewery and pub, located in an old
bakery in downtown Berwick is a favorite stop for a pint and pie, and it's easy
to see why.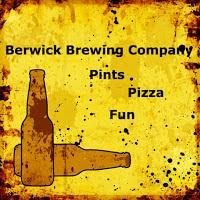 The Brewery opened in 2008 and now produces up to 20 quality
beers, with a regular lineup that includes among others, a golden lager,
hefeweizen—which they sometimes add apple to for an apfelweisen—and porter. They
also brew specialty beers such as a triple ale and imperial stout, which are
available at various times. And keeping with the trend for seasonal beers,
Berwick Brewing produces four pours at different times during the year,
including a Peach Wheat in summer. The pub offers up to twenty different
beers, including other labels, at any given time—so visitors have plenty of
different tastes to choose from. Find one you like? You can purchase growlers
to take home of all the regular and specialty beers and some of the seasonal beers.
But the beer is only part of the reason visitors frequent
Berwick Brewing Company. The other is the pizza. Hand tossed, thin-crust and
tasty, the pizzas make a perfect complement for the brews. For those who prefer
just a snack, try one of the large, locally-made pretzels that come salted,
coated with cinnamon sugar or studded with jalapeno peppers.
The brewpub hosts music acts often on weekends, with no
cover. Its website is a good resource for what's upcoming.
Berwick Brewing Company
328 W. Front Street, Berwick, PA
Tuesday – Thursday, 3:00 p.m. – 11:00 p.m.
Friday, 11:00 a.m. – 12:00 a.m.
Saturday, 1:00 p.m. – 12:00 a.m.
Sunday, 1:00 p.m. – 7:00 p.m.
570-752-4313
And of course, you can enjoy more quenching brew at our own pub back
at the Inn, along with a great room and restful evening. Winter is a lovely
time to visit, so plan a stay soon!