The Catawissa Bottling Company first started making Big Ben Sparkling Beverages 90 years ago. Thankfully they still are! Located just 10 minutes south of Bloomsburg in the small town of Catawissa, the company is a family affair.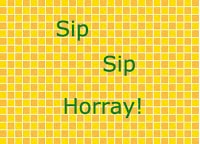 In 1926, Bruce and Suzanne Gregorowicz received a license to produce and bottle soda, and Big Ben Sparkling Beverages was born. The company started out with a tasty lineup of 21 flavors, including favorites of the day such as orange soda, birch beer, sarsaparilla and teaberry. Today, you can buy Big Ben in 23 different flavors (check the website for the complete listing). Sarsaparilla is gone, but some of the originals are still available. One of those originals is golden birch beer, which has been sold solely in kegs, save for a special bottling during the company's 75th anniversary in 2001.
In 1945, the company added Moxie to its lineup. This is considered the oldest soda in America, and Catawissa Bottling is one of just six bottlers in the country to produce it.
The late 1960's brought the re-introduction of Ginger Beer. More sodas, more types of packaging, and a growing business meant a need for more space, and over the years Catawissa Bottling Company has adapted and expanded its space, though still staying in the same location. Guests can stop by the company any day of the week to make a purchase. In addition to sodas, the company is also one of the area's top beer distributors. It's also a favorite go-to place for parties, where you can not only find sodas and beer, but cups, ice, party taps and more.
Catawissa Bottling Company
450 Fisher Avenue, Catawissa, PA
Monday – Thursday, 8:00 a.m. – 6:00 p.m.
Friday – Saturday, 8:00 a.m. – 7:00 p.m.
Sunday, 12:00 p.m. – 3:00 p.m.
570-356-2301
When you stay with us at the Inn, you're close to all kinds of fun businesses and places to explore!