If you've ever been to the Bloomsburg Fair or other festival in North Central Pennsylvania, chances are you've tasted the fabulous kettle corn made by Incredible Popcorn. Lucky for all of us who have, and who love it, the company now has a shop in Bloomsburg.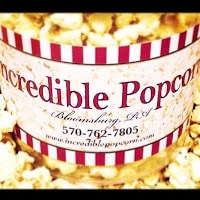 Image courtesy of Incredible Popcorn
Incredible Popcorn has spent nearly 20 years supplying fairs and special events and over that time has not only perfected their technique, but expanded their flavors. Now visitors have a dizzying array of more than 80 different gourmet popcorns to choose from, all made the way they always have been, from scratch.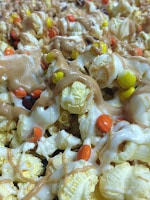 Image courtesy of Incredible Popcorn
In addition to the ever-popular kettle and caramel corns, Incredible Popcorn has savory flavors including everything from salt and vinegar, and cheddar, to the more unusual, such as coconut curry. Caramel with milk chocolate, and a white chocolate are two of the delectable Gourmet Flavors. And then there are Butter Popcorn Flavors which pile on the goodness: s'mores-marshmallow graham crackers, milk and white chocolate; Reese's peanut butter cups, milk chocolate and peanut butter to name a few. You can also find popcorn with candy mixed in, such as candy apple-cherry with caramel popcorn. During holiday time, old-fashioned pink popcorn is added to the list.
In addition to popcorn, the company carries a nice variety of old-fashioned "penny candy, and at the holidays makes homemade ribbon candy.
Incredible Popcorn
1009 Old Berwick Road, Bloomsburg, PA
Monday – Friday, 12:00 p.m. – 5:00 p.m.
Saturday, 9:00 a.m. – 4:00 p.m.
Sunday, 12:00 p.m. – 4:00 p.m.
570-762-7805
And who doesn't love popcorn and beer? Come visit the Inn, and you can enjoy your popcorn of choice with a craft brew at our onsite Brewpub!