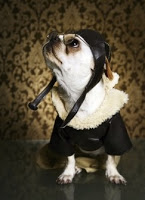 There's nothing like have a quiet place in the country to hang your hat—or leash!
Next time you hit the road with your favorite four-legged friend, stop by and see us.
We're pet owners too, and we enjoy having friendly dogs or cats around. So when you're traveling in north central Pennsylvania, come visit the Inn. Instead of staying in a chain hotel surrounded by a parking lot, you and your well-behaved buddy can relax in style in one of our guest rooms surrounding the courtyard, or in a luxurious Stable room. Nothing like cushy surroundings to make your pet feel right at home!
We've got great spaces for daily walks too, like a special wooded area beside Central road, and another down by the barn—with lots of great smells to get those tails a wagging.
And back in the room, while your furry friend is happily snoozing, you can be sipping wine in a comfy chair nearby.
To make sure your pets will be happy and all guests enjoy their stays, please take time to read our Pet Policy. Then give us a call—we'll help arrange the perfect stay for all of you.