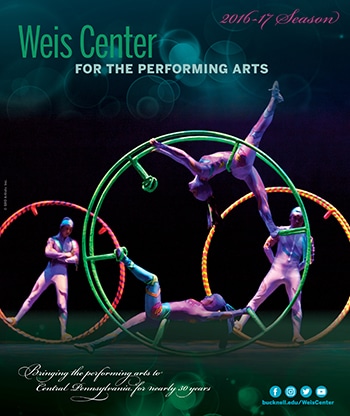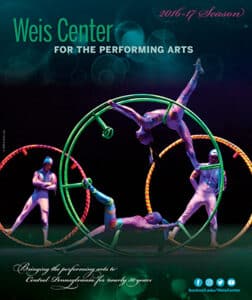 If you would enjoy a live theater, music, or dance performance during your getaway to Northeastern Pennsylvania this spring, here are some of the highlights from Weis Center for the Performing Arts' schedule, ranging traditional Irish music to Chinese acrobats to American stand-up comedy. Take a look, and you'll see why Tripping's list of The Most Amazing College and University Performing Arts Centers in the United States ranked Bucknell University's Weis Center #3 in December, 2015. For a complete listing and further information, visit the Weis Center for the Performing Arts website.
Caladh Nua
Friday, March 3, 2017 7:30 p.m.
This five member troupe of musicians and singers performs traditional Irish music with a contemporary flair. Their credits include two acclaimed records and a long list of TV and radio broadcasts on networks such as B.B.C. and American Public Radio.
Adults: $20 Seniors 62+: $16 Youth 18 and under: $10

tenThing
Saturday March 25, 2017 7:30 p.m.
Over the past decade, this classical brass ensemble has performed throughout Norway and internationally. Their repertoire includes arrangements of works by composers such as Grieg, Weill, Albeniz, Mozart, and Bizet, as well as original works by Dutch composer Jan Koetsier.
Adults: $20 Seniors 62+: $16 Youth 18 and Under: $10
Golden Dragon Acrobats
Wednesday, March 30, 2017 7:30 p.m.
Twice nominated for New York Drama Desk Awards, this Chinese troupe's cirque spectacular "showcases traditional Chinese acrobats who dazzle with amazing feats of athleticism, daring heart-stopping stunts and the grace of their centuries-old art form." -Broadway World.
Adults: $30 Seniors 62+: $24 Youth 18 and under: $20
Shaolin Warriors
Thursday, April 6, 2017 7:30 p.m.
These Kung Fu masters' choreographed production spans over a millennium of Chinese martial arts culture. Their performance incorporates many forms of Shaolin Kung Fu, as well as a view into the warriors' daily lives and their Zen philosophy. They combine "… the agility and grace of gymnasts with the showmanship of Cirque du Soleil performers." -The Washington Post.
Adults: $30 Seniors 62+: $24 Youth 18 and under: $20
Paula Poundstone
Saturday, April 8, 2017 7:30 p.m.
Winner of an American Comedy Award for Best Female Standup Comic, Paula Poundstone is recognized as one of Comedy Central's 100 greatest stand-ups of all time. Commentator, author, panelist on National Public Radio's Wait Wait…Don't Tell Me, and cast member in Pixar's Inside Out, this is your chance to enjoy her "distinctive brand of wry, intelligent and witty comedy" -Bob Zany, Boston Globe.
Adults: $30 Seniors 62+: $24 Youth 18 and under: $20
Mariachi Los Camperos
Sunday, April 30, 2017 3:00 p.m.
Mariachi Los Camperos, founded by mariachi master Natividad "Nati" Cano, brings mariachi music to the concert stage with an expansive repertoire. The Smithsonian Museum has released a number of albums recorded by Los Camperos, including the GRAMMY winner, Amor, Dolor y Lágrima.
Adults $20 Seniors 62+: $16 Youth 18 and under: $10If your plan a trip to the Susquehanna Valley area of Pennsylvania this March or April, your entertainment choices abound. Give us a call at the Inn, Farmhouse, and Brewing Co. at Turkey Hill, and we'll be happy to assist you with arranging your stay at our boutique hotel, a quiet and relaxing oasis just off I-80 in Bloomsburg, PA.
Weis Center for the Performing Arts
Bucknell University
1 Dent Drive, Lewisburg, PA 17837
Phone: 570-577-1000
Tickets for these performances may be ordered online at the University Box Office, by phone, by mail, or in person.