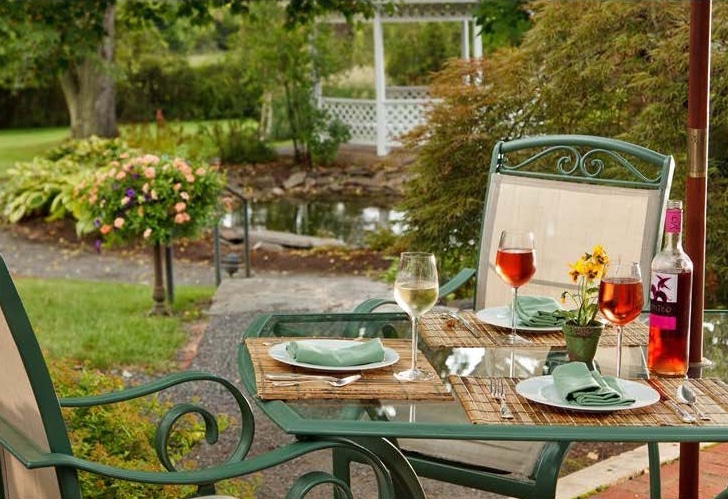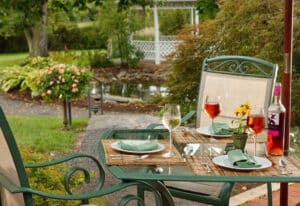 Choose The Inn, Farmhouse, and Brewing Co. at Turkey Hill for your stay in Bloomsburg, and let us pamper you with a vacation experience. Of course we offer all the amenities you expect at corporate chains, from in-room refrigerators, microwaves, and docking ports to 24-hour front desk service, but there's so much more, all right here at the Inn:
The Inn's historic property is a former farm, complete with towering maple trees, gazebo and a pond where you can greet Honey and Gwendolyn, our resident ducks.
Choose from 23 individually designed guest rooms – all with handmade wood furnishings and fine linens – there's no chance you'll awaken to wonder if you're in Bloomsburg or Buffalo! In the mood to relax with a movie? Just borrow a DVD from our library. Bottled water? It's complimentary, of course!
You don't have to leave the Inn to enjoy fine cuisine in the relaxed, yet formal setting of our Farmhouse Restaurant. Executive Chef Jim Hahn's menus change with the seasons to highlight local ingredients, and we complement them with an award-winning wine list or enjoy our own brewery's hand-crafted beer.
Chain hotels usually don't have their own award-winning microbrewery on site, either! Turkey Hill Brewing Company Pub and Grille is just steps away in the property's restored 1839 bank barn. You'll find plenty of brews on tap to complement Chef Steve Bigger's casual pub menu, and weekly entertainment featuring local performers.
Don't care to make your own waffle in the morning? Our staff will welcome you to breakfast instead. Choose our continental breakfast with freshly squeezed orange juice, fruit, yogurt, cereals, and a selection of warm pastries – made right here, of course! Then choose a chef-prepared hot entrée – perhaps a vegetable frittata or raspberry French toast. Need something special like a gluten-free option? Just ask!
Our Inn has been family owned and operated for over three decades, and is recognized as a Select Registry Property, whose members pride themselves on their excellence and personalized hospitality. Why not take their advice in your increasingly impersonal world of lodging choices? "Don't just book. Select." We look forward to hosting you at our quiet 'oasis' along the interstate.