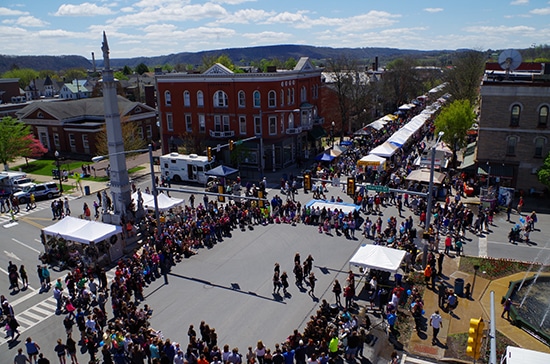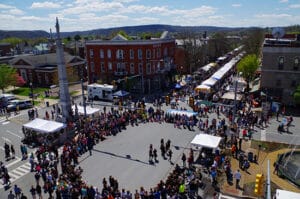 Spring is here at last, and Bloomsburg is ready to celebrate the season at its 39th Renaissance Jamboree, April 29, 2017. The name says it all – spring represents an annual "Renaissance" (a French word meaning reawakening) and the way to celebrate is a Jamboree -"a party, celebration, or other gathering where there are a large number of people and a lot of excitement, fun, and enjoyment"(Collins English Dictionary). You're invited to come and celebrate with us!
What makes this outdoor festival on Bloomsburg's Main Street between Iron and West Streets a Jamboree?
Over 100 arts and crafts vendors and games booths
Three entertainment stages
Live Music
Performances by Local Dance Groups
Children's entertainment
Regional non-profit organization booths sponsoring games and selling homemade baked goods and carnival treats
There's no better place to stay in Bloomsburg than The Inn, Farmhouse, and Brewing Co. at Turkey Hill, and there's no better way to celebrate spring's arrival in Pennsylvania than with a weekend getaway for some free fun and entertainment. It's all happening right here, so don't wait to give us a call or go online and book your spring getaway today!
Renaissance Jamboree
Date: April 29, 2017 Time: 10:00 am – 5:00 pm RAIN OR SHINE
Admission: FREE Please leave pets at home.
Parking: Free parking at the Bloomsburg Fairgrounds; handicapped accessible shuttle service to the Jamboree beginning at 9:30 am.
The Jamboree is a collaborative event sponsored by Bloomsburg University and its Community Government Association, the Columbia Montour Chamber of Commerce, Downtown Bloomsburg, Inc., and the Town of Bloomsburg.
Photo courtesy of Columbia Montour Chamber of Commerce.