If you love local artisan brews, there's no better place to celebrate New Year's Eve, 2017, than at Turkey Hill Brewing Company's Brewmaster's Dinner here in Bloomsburg, PA! This annual event pairs a five course dinner with 6 ounce pours of the perfect house brews – from A (Asian Quail and Revelation Pale Ale) to W (Wild Berry Streusel Tart and Wild Saison). The alphabetic labels stop short of Z so everyone has time to savor every pairing! Head Chef Steve Bigger and Head Brewer Donny Abraczinskas have been huddling together all month to devise brews and dishes that complement each other in flavor and style.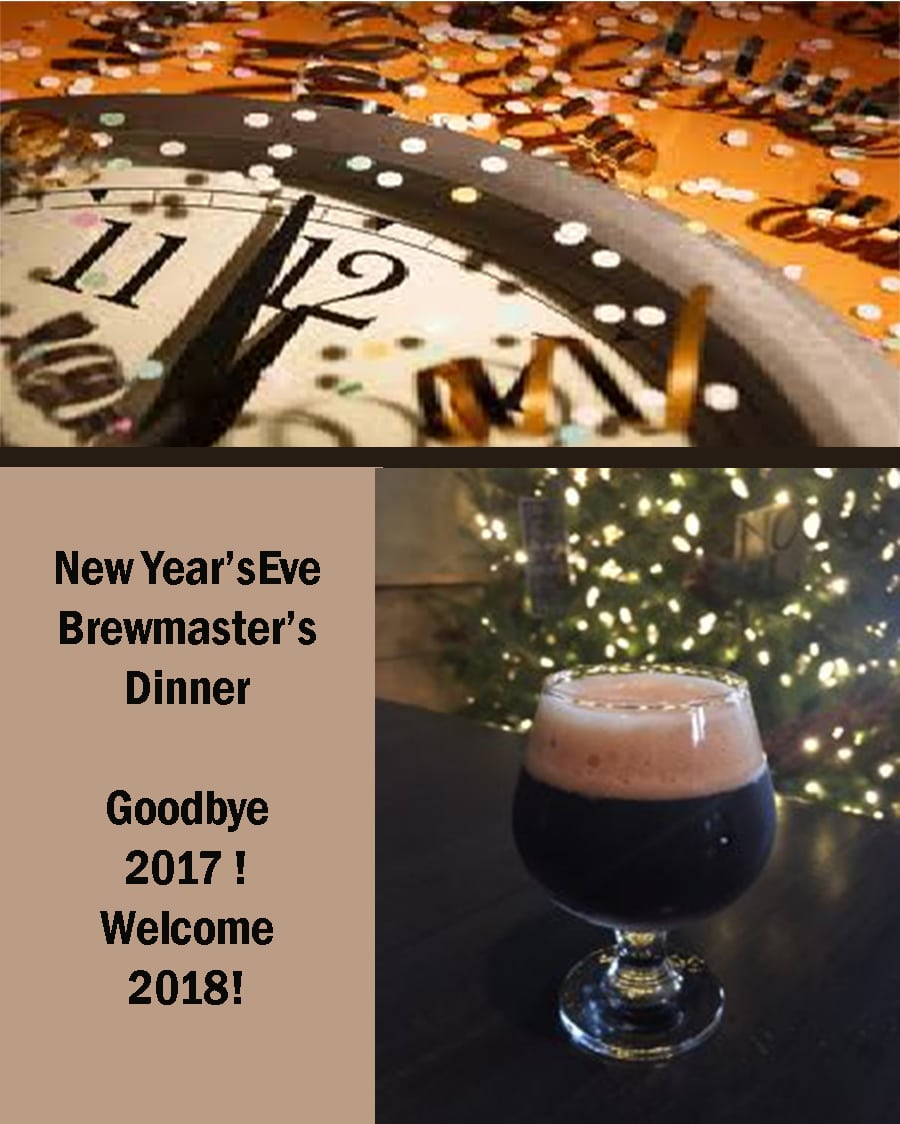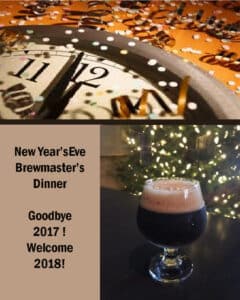 We know your mouth must be watering by now, so here's the menu they've just completed:
Revelation Pale Ale will accompany the appetizer of Asian Quail, marinated in Asian 5 spice, brown sugar, and soy sauce, then roasted and served in a nest of Asian rice noodles with pickled vegetables and a peanut sauce.
The soup course will give your taste buds a whirl by pairing the aptly named New Whirrled Vienna Lager with three soups in one – Roasted Red Pepper Soup, Black Bean Soup and Corn Soup, all brought together with a spicy crab Pico de Gallo.
You might ask 'What the Helles' since the salad course includes grilled beef tenderloin! The Beef Carpaccio & Roasted Baby Beet Salad combines the rare grilled beef with roasted red, golden & candy cane baby beets served on a bed of Arugula, spinach and radicchio.
The entrée choices will challenge every beer lover – you'll have to choose! Iron Street Robust Porter will be paired with Slow Roasted Wild Boar topped with a cranberry, walnut chutney and served with bourbon spiked mashed sweet potatoes and grilled asparagus. If an I.P.A. is more your style, you can enjoy Inflategate New England I.P.A. paired with a Grilled French Pheasant Breast, topped with an orange, raspberry sauce and served with a cornbread, sun flower seed stuffing and sautéed Brussel's sprouts.
Before midnight strikes, you'll enjoy a dessert of Wild Berry Streusel Tart with a Blueberry, Pomegranate Ice Cream while you savor Wild Saison & Fort Wheeler's Belgian Dark Strong + Boilo.
Of course, there's no better way to welcome New Year's Day 2018 that at The Inn, Farmhouse, and Brewing Co. at Turkey Hill – imagine just being able to stroll over to your cozy room at the Inn after the Brewmaster's Dinner, knowing the Inn's gourmet breakfast will await you New Year's Day! Seats at the Brewmaster's Dinner are filling fast, so don't wait to reserve those tickets and book your stay with us at the Inn!
Happy Holidays!
Brewmaster's Dinner at The Turkey Hill Brewing Company
Date and Time: Sunday, December 31. 2017
Enjoy passed hors d'oeuvres and cash bar from 5:00 – 6:00 pm
Brewmaster's Dinner: 6:00 – 9:00 pm
Tickets: $100 per person (including the five course beer and food pairings)
NOTE: The limited number of tickets can only be purchased at Turkey Hill Brewing Company during regular business hours (The Inn at Turkey Hill front desk will NOT have tickets available for sale). Phone or email/ social media reservations for dinner are not possible, and the tickets must be presented at the event.