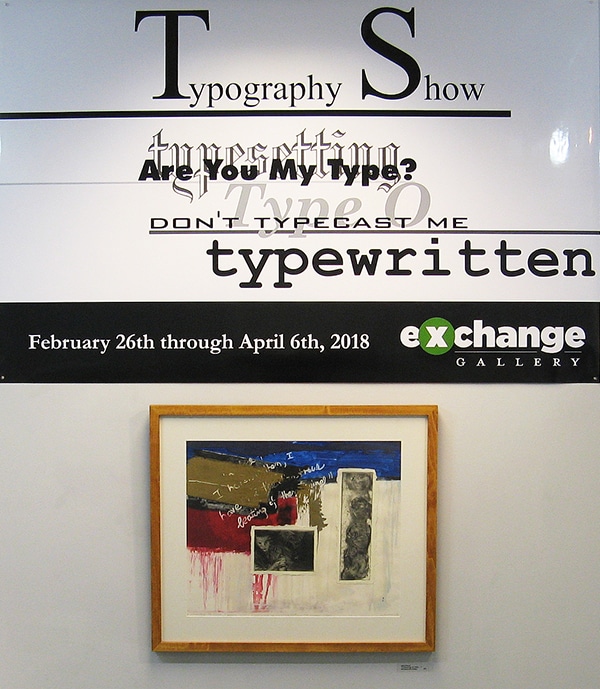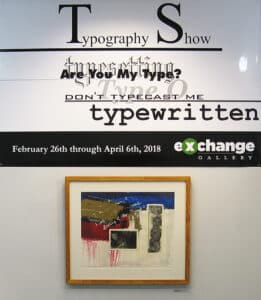 Visitors to Bloomsburg's downtown art galleries this spring will enjoy fresh new subjects and creative use of media in the exhibits at The Exchange, Artspace Gallery, and Bloomsburg University's Gallery at Greenly Center.
The Exchange Gallery "Typography" February 26 – April 6, 2018
The Exchange brings together works by artists from across the nation as well as Pennsylvania, organized around typography, "the arrangement and appearance of lettering". Their different media range from inspirational quotes and wearable buttons to jewelry and shadow boxes. These works are available for purchase, many for less than $100.
Days & Hours: Monday & Friday 10:00 am – 6:00 pm
Location: 24 East Main Street, Bloomsburg, PA Phone: 570-317-2596
Artspace Gallery "Art Through the Ages, Redux" March 1 – April 15, 2018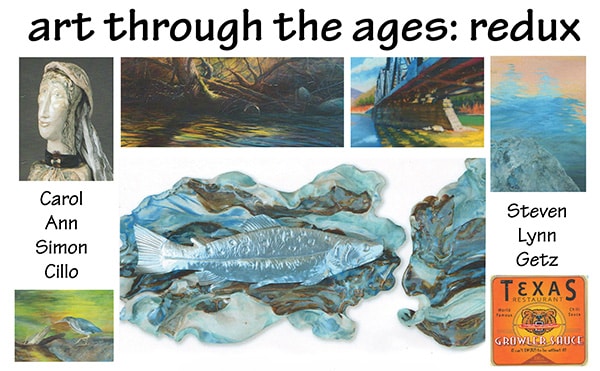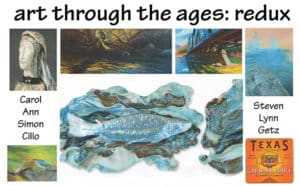 Pennsylvania artists Carol Ann Simon Cillo and Steven Lynn Getz chose what they believe are milestone pieces from their careers, creating a visual hiistory of their creative process and use of different media. Cillo's works include acrylic paintings and sculptural ceramic torsos that introduce fiber or recycled material. She believes that "The art will call for whatever materials it needs", expanding traditional boundaries of color, texture, and technique. Getz both paints in the traditional pigments of acrylics and oils, and explores the freedom of creating digital works in a variety of styles. He sees pushing the limits of creativity "as a way to explore our inner selves".
Days & Hours: Thursday – Saturday noon – 8 pm / Sunday noon – 5 pm
Location: 221 Center Street, Bloomsburg, PA Phone: 570-784-0737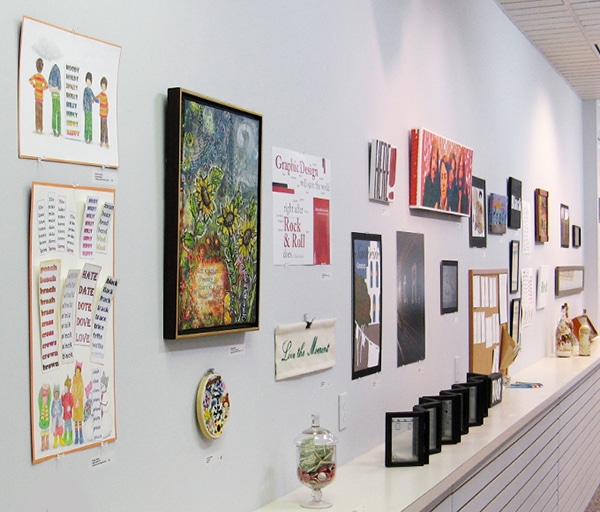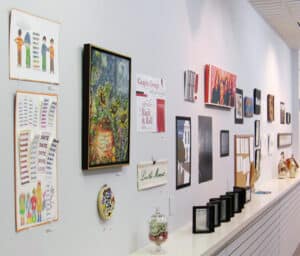 The Gallery at Greenly Center March 8 – April 19, 2018
"Maria Lux: Balance and Barrier" "Katrina Majkut: In Control"
The Gallery at Greenly Center hosts shows by two research-based artists who incorporate scholarship as well as artistic creativity into their works. Lux employs research from fields ranging from evolutionary biology to film, and anthropology to agriculture to inform the ways "animals are used to generate human knowledge and understanding". Her installation-based works vary in scale, materials, and techniques, from dioramas and large-scale carving to sewing and stop-motion animation. Katrina Majkut is both a visual artist and writer, investigating ways in which feminine art, history, and traditions relate to and impact social equality and women's issues. She grounds her art in her feminist scholarship, and employs culturally-inspired media such as cross-stiich embroidery and painting to express a female viewpoint.
Days & Hours: Monday/Wednesday: 11:00 – 3:00 pm Tuesday/Thursday: 1:00 – 4:00 Friday: 11:00 – 4:00
Location: 50 East Main Street Bloomsburg, PA Phone: 570-389-4646
Spring has arrived, and it's time to emerge from winter hibernation to explore new ways of seeing the world around us in art as well as nature. The Inn's gardens are beginning to emerge from winter's hiding, and you can enjoy the shows at Bloomsburg's art galleries through mid-April, so plan your spring getaway to Northeastern Pennsylvania now. All of us at The Inn, Farmhouse, and Brewing Co. at Turkey Hill can't wait to welcome you and the newness of this season!
Photos courtesy of The Exchange Gallery and Artspace Gallery