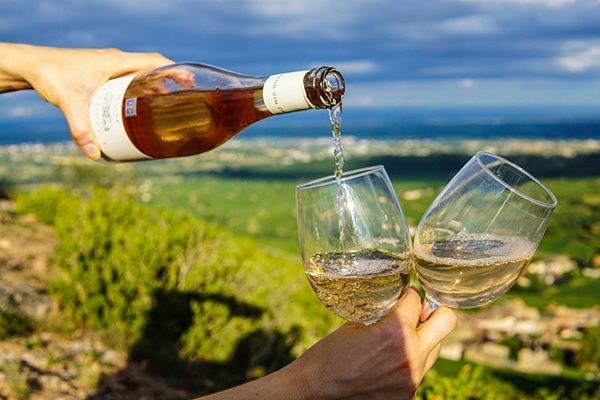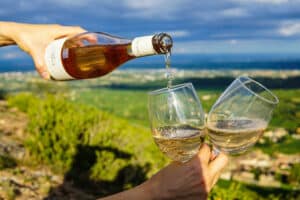 The Inn, Farmhouse, and Brewing Co. at Turkey Hill is the perfect lodging choice if you're going to the Central PA Wine Festival in Bloomsburg, PA on Saturday, June 2, 2018. You'll enjoy all the amenities and relaxing atmosphere of our landmark Inn that's competitively priced with Bloomsburg hotels. You'll start the day with a leisurely breakfast in our greenhouse overlooking the duck pond. Homemade pastries, freshly-squeezed juice, fresh fruit, and yogurt begin your meal, followed by one of the Inn's hot entrées if you wish.
The Festival opens at 11:00 am at the Bloomsburg Fairgrounds. With almost 30 wineries plus several breweries and a meadery, you can follow your own personal Pennsylvania wine trail under the Festival's outdoor tent and inside the Industrial Arts Buildings. You'll want to pair some food with sampling the wines, and you'll find over 15 food vendors from which to choose. Musical entertainment will feature Prairie Dogma, November Lounge, and DJ Brian Walter inside and the Jeanne Zano duo under the tent outdoors. Besides wine, food, and live music, there will be 75 vendors displaying art, artisan crafts, and other products.
Plan your personal stroll around these Central Pennsylvania vineyards and wineries from as far away as Deer Creek Winery, 185 miles to the west of Bloomsburg in Shippendale. You'll find another six wineries from A (Allegro Vineyards & Winery in Brogue) to Z (Jan Zell Wines in Chambersburg) are coming from more than 125 miles away. The majority will travel from between 50 to100 miles in all directions – six from the north and northeast and nine more from vineyards to the southeast, south and southwest. Visit the Festival website for a complete list of participants and check their Facebook page for video of music from a past festival.
June will be here before you know it, so don't wait to book your weekend stay here at the Inn for this great wine festival right here in Bloomsburg! You can even purchase advance tickets at our own Turkey Hill Brewing Company and avoid the wait to get into the Festival on Saturday morning! Summer will be arriving, so it's time to enjoy our beautiful Pennsylvania landscapes and the wines they produce.
Central PA Wine Festival
Date & Time: Saturday, June 2, 2018 from 11:00 am – 6:00 pm
Location: Bloomsburg Fairgounds, 620 West Third Street Bloomsburg, PA
Admission: $20 advance purchase on line; $25 at the door; $5 for designated drivers
NOTE: ID will be required; wristbands for advanced purchase tickets for priority entry.
The Festival will be held rain or shine, so bring lawn chairs/blankets if desired. The Festival is not a child friendly event, and no pets are allowed.
Photo by Elle Hughes on UnSplash