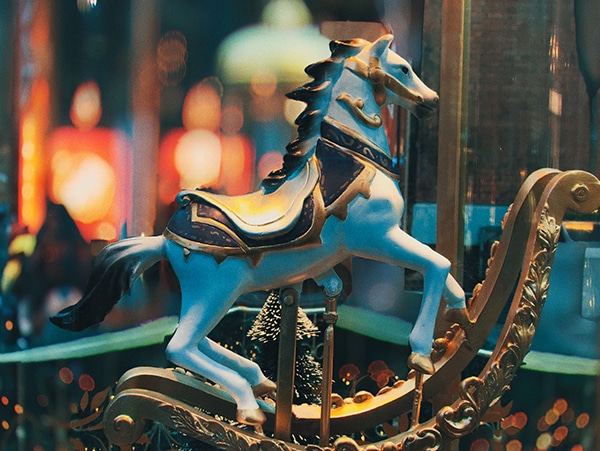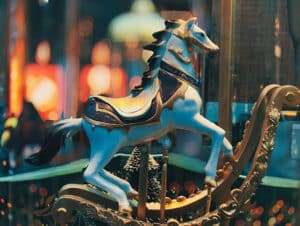 Remember the fun of riding a colorful steed up and down, round and round, listening to the music on a carousel? Why not visit Knoebels unique Carousel Museum in Elysburg, and hear that carousel music again when you stay at The Inn, Farmhouse, and Brewing Co. at Turkey Hill? Knoebels Amusement Resort is located less than a half-hour's drive from Bloomsburg, PA. The Carousel Museum features over 50 hand-carved carousel figures, plus scenery panels, chariot sides, paper music rolls, and other memorabilia. You'll take a ride through history as you learn about the history of carousels and their organs dating from 1870 until the recent past. Admission to the Carousel Museum is free.
You'll find the Grand Carousel in the center of Knoebels Amusement Park. Built in 1913, its 63 horses carved by Charles Carmel and three Looff chariots are four abreast, making it one of the largest carousels in the world. There's still a chance to catch the brass ring for a free ride! The Grand Carousel is partnered with three organs. The largest, dating from 1888, now plays using a paper rolls system. A smaller organ, built in 1910, still plays original folding cardboard music. The third organ, in the center of the carousel, is a Wilhem Bruder organ that now uses duplex roll system.
The S & G Merry Go Round and S & G Organ are located in Kiddieland. The two-abreast S &G carousel figures were carved by Stein and Goldstein in the early 20th century. Its adjacent organ dates from about 1900 and appeared with Knoebels first carousel in the late 1920s. It was converted to play a duplex paper roll system in 1925. It was unused and fell into disrepair from the 1930s until the 1980s, when it was restored and joined the S & G Merry Go Round in its current location.
The Wurlitzer 165 Organ is located next to the Chalet, across from the Phoenix in the Park. Built in 1907 and converted to play 165 paper rolls in 1914, it is the most complex of the organs in the Park. Its library has the most complete collection of 165 paper rolls known to exist. You'll hear it playing 12 hours a day, every day when the Park is open.
Knoebels displays some of its organs only every other year at the Carousel Organ Association of America's Bi-Annual Rally (June 16-17, 2018). These include:
Wurlitzer Caliola Organ, manufactured in 1928, is one of only 62 ever built. Restored in 1987, it contains 44 wooden flute pipes can be played from a keyboard or automatically from a paper roll.
105 Wurlitzer Organ originally built in 1929 and restored in 1995, plays original style 125 paper rolls.
Tangley Calliaphone, a typical circus calliope, features 43 brass "whistles," playable from a keyboard or automatically from a paper roll.
Limonaire Street Organ, built in The Netherlands about 1920, plays folding cardboard music and can be pushed through the park.
The Carousel Museum is one of the 13 locations on the new Summer Heritage Passport that guides visitors on a journey through the history, culture, and stories of Pennsylvania's Columbia & Montour Counties. You can download the brochure listing both these Summer Heritage attractions and Summer Heritage events, plus other regional Heritage Sites. Bloomsburg is a perfect central location for visiting the great variety of Summer Heritage Passport attractions, so don't wait to reserve your room at the Inn for your vacation plans in Northeastern Pennsylvania. Just give us a call at (570) 387-1500 or go online to reserve your stay!
Photo by JJ Ying on UnSplash