The scenic drive from The Inn, Farmhouse, and Brewing Co. at Turkey Hill in Bloomsburg to Eagles Mere is just 30 miles, and is especially beautiful during the fall foliage season. You'll step back in time on Saturday, October 6, 2018, when you visit Eagles Mere for the 10th Annual Bi-Planes, Trains & Automobiles on the Village Green. This event highlights the three Eagles Mere museums on the regional Summer Heritage Passport. It's designed by the Columbia-Montour Visitors Bureau to take visitors" on a journey through the history, culture, and stories of Columbia & Montour Counties and beyond".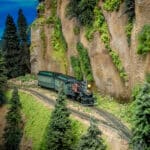 The historic community of Eagles Mere, a summer resort for over a century, features a trio of museums that highlight earlier forms of transportation. Begin in the late 19th century with the train exhibit at the Eagles Mere Museum. There's a working model of the narrow-gauge train that brought summer visitors to Eagles Mere during the late 1800s and early 1900s. The museum's narrow-gauge model train recreates the path these trains took up the mountain from Sonestown to Eagles Mere.
Then explore the early history of aviation at the Eagles Mere Air Museum. It features a unique flying collection of over 30 antique airplanes and related memorabilia from "the golden age of flying — 1908 to 1940". Visitors can watch planes in operation on weekends at the adjacent Merritt Field Airport. Last, the Eagles Mere Auto Museum, next to the Air Museum, brings you to the mid-20th century with its collection of over 75 cars, trucks and automobilia from the 1950s and 1960s.
Pennsylvania's Endless Mountains near Eagles Mere are famous for colorful fall foliage. October is the perfect time to enjoy the scenic drive from Bloomsburg to Eagles Mere when the town celebrates the planes, trains, and automobiles at their three museums. After you visit the museums, continue your drive to Worlds End State Park Visitors Center, in the heart of the Endless Mountains. It's just 7 miles from Eagles Mere. You'll find a spectacular view at the Park's High Rock Vista. A great way to finish your foliage drive is traveling to Ricketts Glen State Park on your return route to Bloomsburg and the Inn.
Foliage season brings many visitors to Northeastern PA, so be sure when you reserve your room at the Inn, you make your dinner reservations for our Farmhouse Restaurant as well. If you prefer more casual fare, choose the cozy atmosphere of our brew pub at the Turkey Hill Brewing Company. We have some great brews on tap this fall, including the Cask Conditioned Kellerbier Octoberfest!
10th Annual Bi-Planes, Trains & Automobiles on the Village Green
Date and Time: Saturday, October 6, 2018, from 10:00 am – 4:00 pm
Locations: Eagles Mere Village Green
Eagles Mere Museum, 228 Eagles Mere Avenue, Eagles Mere, PA
Eagles Mere Air Museum, 14013 Pennsylvania SR-42, Laporte, PA,
Eagles Mere Auto Museum, Merritt Field, Pennsylvania SR-42, Laporte, PA
Admission to both Air and Auto Museums: Adults, $8.00 per person; Families (children under 17) – $18.00
Images of Eagles Mere Museum, Eagles Mere Air Museum, and Eagles Mere Auto Museum courtesy of Columbia-Montour Visitors Bureau.