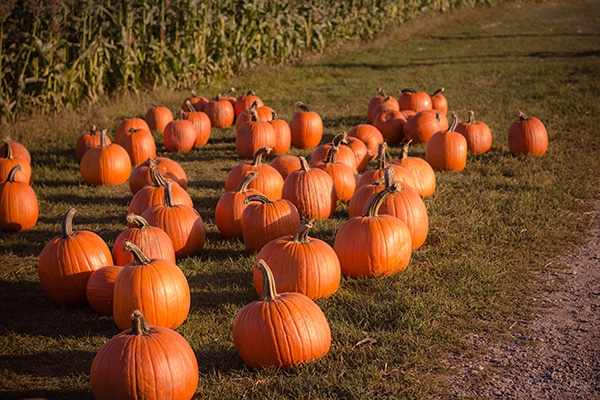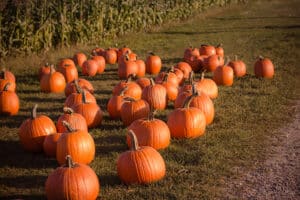 October's arrival means guests who stay at The Inn, Farmhouse and Brewing Co. at Turkey Hill will enjoy Northeastern Pennsylvania's fall foliage, plus pumpkin festivals, corn mazes, hayrides, and more! You'll find them less than a half hour's drive in almost any direction from Bloomsburg, PA. Some are weekends only; others are open more days of the week. Here's where you can find some of them:
Rohrbach's Farm Market in nearby Catawissa, PA (less than 20 minutes south of Bloomsburg) holds their Pumpkin Fall Festivals every weekend through October 27, 2018. Hayrides are free! Try your aim with their Apple Cannon. Wander through the Farm's famous Corn Maze on Fridays and Saturdays through October or try one of the Flashlight Nights if you dare. Freas Farm Winery is open as well, and you'll never go hungry. Feast on treats at Rohrbach's Food Stand, plus Apple Dumplings, Big Dan's BBQ, pizza, sausages, funnel cakes, and more. For the kids, the Pumpkin Festival includes a Playland and Petting Zoo, plus Pony Rides on Saturdays. There's free entertainment on Saturdays, too! With all this fun, don't forget to pick your own pumpkin!
Kohl's Stony Hill Tree Farm holds Fall Festivals through November 4, 2018. The Tree Farm in Milton, PA is less than a 25 minute drive from the Inn. Their 7 acre Corn Maze has a new unique design each year and is open Thursdays through Sundays. You can visit their website to learn how they create the maze each year then explore it yourself. Of course you can test your skills with the Corn Cannon and Pumpkin Chunkin with a Slingshot, too. You'll see fall foliage on the 5 mile hayride around country roads and over a covered bridge.
Here's a bonus – you can tag a Christmas tree and start your holiday shopping, too! After choosing from the thousands of pumpkins in the pumpkin patch, you can check out the over 30,000 Christmas trees to pick your favorite. Their Christmas Shoppe will be open as well. It's the largest in Pennsylvania, with over 100,000 ornaments!
Ponduce Farms in Elysburg plans Fall Festivities every weekend through October 28, 2018. Get ready to pick your own pumpkins, plus enjoy Wagon Rides, Pumpkin Bowling, Farmer Golf, Family Crafts, their Barn gift shop, and more. These Festivals are located 15 miles south of Bloomsburg.
You'll find the Ol' Country Barn's 2nd Annual Pumpkin Festival just 20 miles north of Bloomsburg in Benton, PA. October 13-14, 2018, visitors can enjoy free hayrides, free entertainment, a pumpkin patch, over 50 great artisan and food vendors from 10:00 am – 5:00 pm. The Pumpkin Festival Food Stand will serve their famous bean soup, veggie soup, hot dogs, turkey BBQ, and more. Admission, parking and hayrides are free!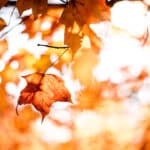 October isn't October in Pennsylvania without celebrating the arrival of fall with pumpkins, corn mazes and hayrides, and they await you in all directions from Bloomsburg. Play all day, then return to the Inn to enjoy a cozy fire and a casual dinner at the Turkey Hill Brewing Company Pub and Grille with your choice of some of their great harvest season brews – Urban Abbey Pumpkin Lager, Brewin Moon Octoberfest, or Barn Dance Blonde Ale. Rooms at the Inn book quickly, so don't wait to make plans for your foliage getaway – give us a call at (570) 387-1500.
Rohrbach's Farm Market Pumpkin Fall Festival
240 Southern Drive, Catawissa, PA Phone: 570-356-7654
Dates and Hours: Fridays October 5 – 26, 2018 Hours: 3:00 pm – 7:00 pm
Saturdays October 6 – 27, 2018 Hours: 11:00 am – 7:00 pm
Flashlight Night in the Corn Maze 7:00 pm – 8:30 pm (bring your own flashlight)
Columbus Day, October 8, 2018 Hours: 11:00 am – 5:00 pm
Admission:
Parking and Public Hayrides: Free
Corn Maze: Ages 12+ $8.00; Ages 4-11 $5.00; Ages 3 and under Free
Military Discount: Half Price Corn Maze Admission with valid Military ID
Apple Slingshot: Small basket $3.00; Large Basket $5.00
Playland: Ages 12+ $1.00; Ages 2-11 $6.00; Under 2 Free
Pony Party Paradise: Pony Rides $5.00; Petting Zoo $2.00
Kohl's Stony Hill Tree Farm
3021 Mexico Rd., Milton, PA Phone: 570-437-3442
Dates and Hours: Maze open through November 4, 2018:
Thursdays: Maze from 4:00 – 8:00 pm Christmas Shoppe from 12:00 – 7:00 pm
Fridays: Maze from 3:00 – 9:00 pm Christmas Shoppe from 12:00 – 9:00 pm
Saturdays: Maze from 11:00 am – 9:00 pm Christmas Shoppe from 10:00 am – 9:00 pm
Sundays: Maze from 12:00 – 8:00 pm Christmas Shoppe from 12:00 – 8:00 pm
Did you know you can Howl at the Moon in the Corn Maze October 26, 2018 when Kohl's Stony Hill Tree Farm is open until 11:00 pm?
Admission:
Corn Maze: Adults ages 13-64 $ 10.00; Ages 5-12 & Seniors $6.00; Ages 4 & under free
Hayrides: Adults ages 13+ $3.00; Ages 5 -12 $2.00; Ages 4 & under free
Corn Maze & Hayride Combo: Adults $12.00; Seniors $8.00 Ages 5-12 $7.50; Ages 4 & under free
Corn Cannon: 12 shots for $5.00 Pumpkin Slingshot: 8 for $5.00
Family packages of tickets available.
Ponduce Farms
270 White Church Rd. Elysburg, PA Phone: 570-799-5888
Dates: Fridays October 5 – 26, 2018
Saturdays October 6 – 27, 2018
Ol' Country Barn's 2nd Annual Pumpkin Festival
9 South Comstock Road Benton, PA Phone: 570-925-6295
Dates and Hours: October 13-14, 2018 from 10:00 am – 5:00 pm