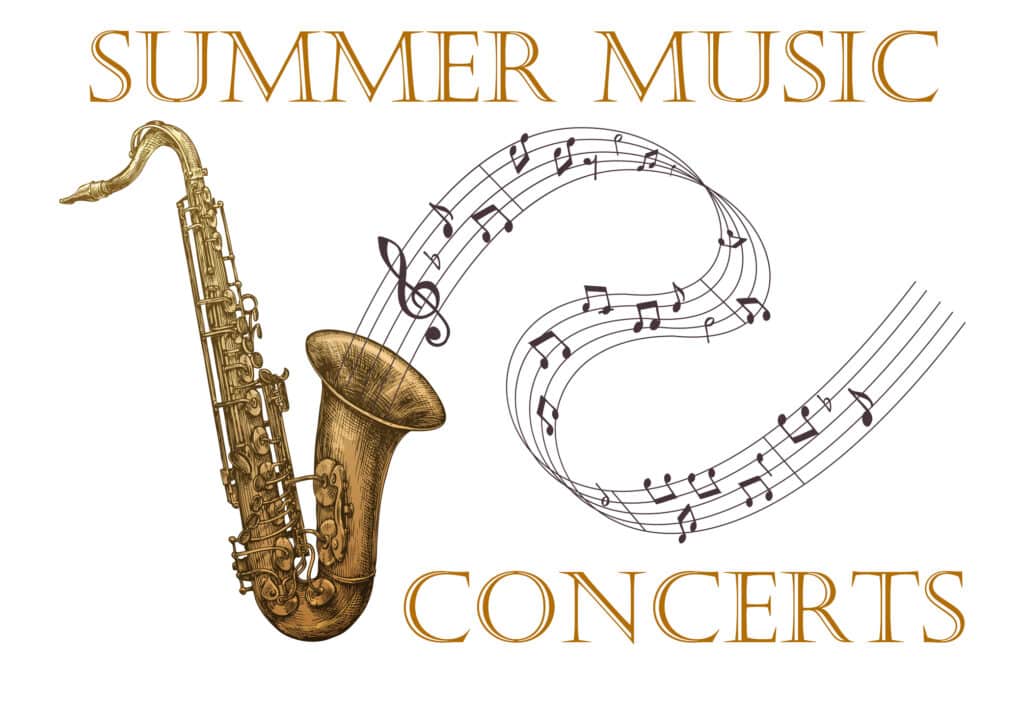 Enjoy these 2019 summer music concert series on warm evenings at Bloomsburg Town Park, Hufnagle Park in Lewisburg, and on the Lawn at the Jackson Mansion in Berwick! You can listen to all this live music under the stars just a short drive from The Inn, Farmhouse, and Brewing Co. at Turkey Hill.
The 2019 Bloomsburg Town Park Summer Concert Series is scheduled Wednesday evenings through July. The Concert Series will cap its season with its 61st Annual Ice Cream and Cake Festival from 5:00 pm until dark on Thursday, August 1, 2019. Come for dessert, and enjoy this old-fashioned community celebration with games, entertainment, and the Catawissa Military Band.
Wednesday, July 17, 2019: The 10 piece Clickard Consortium will take the stage with its repertoire of tunes from swing to modern jazz.
Wednesday, July 24, 2019: Memory Lane brings the music of the 1950s, 1960s, and 1970s to Bloomsburg Town Park.
Wednesday, July 31, 2019: Listen to the Gift, Troutman and Gift trio's vocal harmonies from the 40's to the present.
The Lewisburg Arts Council's 2019 Music in the Park continues its summer concert series on Wednesdays through August at Hufnagle Park in downtown Lewisburg, PA.
Wednesday, August 7, 2019: Listen to the Spirit of Swing's big band tunes.
Wednesday, August 14, 2019: Rolf Sturm & Jenna Mammina will bring its vocals and jazz guitar to the Park.
Wednesday, August 21, 2019: Callanish will perform traditional Celtic music with their fiddle, flute, concertina, guitar, pipes, whistle, bouzouki, and songs.
Wednesday, August 28, 2019: Lewisburg Area H.S. Marching Band concludes the summer concert series.
Thursday evenings, you can enjoy Summer Concerts on the Lawn at the Jackson Mansion in Berwick, PA. July's performances include The Swing Masters on July 18, and Big Country on July 25. Four concerts are scheduled for August: Rose Ostrowski and Maiah Farley on August 1 and Sundance on August 8 followed by the Bennett Brothers on August 22 and Brook & Kevin on August 29, 2019. The concerts in Berwick conclude the Thursday after Labor Day, September 5, 2019, with Free Cake and Ice Cream Night, and Memory Lane's tunes from the 50s, 60s, and 70s.
All the concert series begin at 7:00 pm, and feature genres for all kinds of music lovers. You'll have plenty of time to enjoy our Turkey Hill Brewing Company's casual fare before a concert, or stop by afterwards for one of their dozen brews on tap. Make plans to treat yourselves to a relaxing midweek getaway at the Inn this summer – all kinds of summer activities are waiting for you in North Central Pennsylvania!