Bloomsburg University has installed many large scale outdoor sculptures throughout its campus. The BU Sculpture Walk leads you around the campus to see 18 pieces on display representing diverse themes, styles, techniques, and media. Almost all these sculptures were created during the last three decades of the 20th century by a dozen different sculptors. Artists created these works using wood, limestone, marble, and granite, as well as bronze, steel, and aluminum. You will see abstract forms, life size figures, and sculptures that can even function as benches along the way. Some of the works create auditory and tactile experiences, drawing you into the sculptures.
Two two-dimensional works on the Sculpture Walk are incorporated for their artistic importance and accessibility. Truth and Virtue, a large stained glass mural created by Louis Comfort Tiffany in 1920 begins the Walk at the Andruss Library (visible above the entrance in the image below). You will see an abstract expressionist oil, Untitled, at the Haas Center for the Arts. Japanese Master Tetsuro Sawada created this painting in 1971.
You can wander among half the sculptures in the quadrangle by the library. The next five are located near Bakeless Hall and the Haas Center. The last four, including Husky, a bronze sculpture of BU's mascot by E. Richard Bonham, are located near Kehr Union.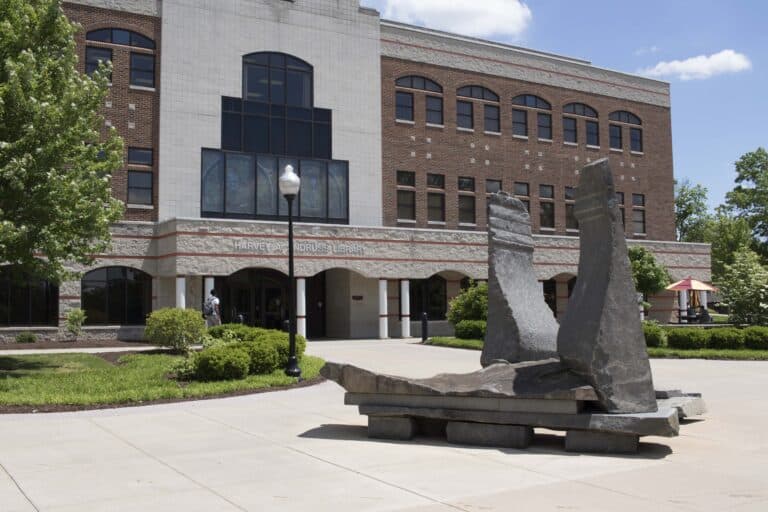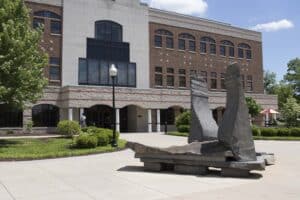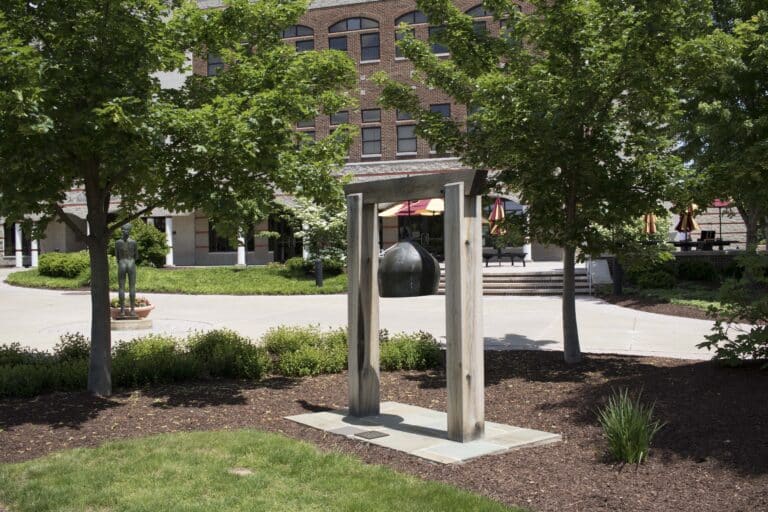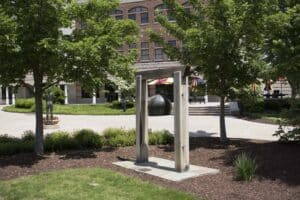 You can download a brochure describing each of the 18 works with a map of the sculptures' locations on campus. You also can take a guided video walking tour with backstories about the sculptures using a mobile app. To download the Sculpture Walk mobile app and get the QR code, visit the Columbia-Montour Visitors Bureau website. BU's YouTube channel has a series of short videos with Sculpture Walk titles that describe each piece on the Walk and its history.
Whether you are coming to The Inn, Farmhouse, and Brewing Co. at Turkey Hill for a Bloomsburg University event or for some other reason, we think you will enjoy staying at our campus-like environment. At the Inn, you'll enjoy the comfort of a B&B plus the amenities of a hotel. We serve a complimentary gourmet breakfast on weekdays from 6:30 – 10:00 am, and on weekends from 7:00 -11:00 am. We have two restaurants on our property. Our pole barn is the home of Turkey Hill Brewing Company, with casual dining at its Pub and Grille. At the Inn's Farmhouse Restaurant, we offer fine dining in a relaxed, yet formal, country setting.
We hope you also will enjoy a walk around the other campus in town. Bloomsburg University with its outdoor sculptures is right down Lightstreet Road, just over a mile from the Inn.
Images of Husky by E. Richard Bonham, Endless Circle by Toshiko Takaezu, and Stone Benches by Peter Hide courtesy of Bloomsburg University