Everyone who enters the nondescript building next to the sign for Bill's Bike Barn has the same reaction – gasps, oohs, and aahs. Why? Because what you see inside is so surprising and overwhelming! It's not just a home for vintage motorcycles, it is a world unto itself. Bill's Bike Barn is a hidden gem of Americana. For an admission price of just $5 per person, what would you expect? You can't even really see it from the road. To whet your appetite, here are the 5 top things to see at Bill's Bike Barn in Bloomsburg, PA.
History of Bill's Bike Barn

Let's back up a little bit to understand how this amazing place came to be. For 40 years, Bill Morris had a custom cycle shop. He stockpiled motorcycle parts as he acquired other shops and became a mail order parts shop. Originally, that was the reason for the building.
Along the way, he was collecting all sorts of things that fascinated him. Not only motorcycles, but carousel horses, Disney memorabilia, military items, key chains, and well, you name it. But he needed a place to display and share all of it.
Ten years later, there are more than 50,000 square feet of antiques. The primary home for them is a reconstructed green metal pole barn that looks just like a storage building. However, once you step inside, you enter another world… You are literally standing in a barn from the 1800s that was taken apart, piece by piece, and rebuilt inside the metal building. Yes, inside the building.
You have now entered Billville, a little village with a mock mansion, smoke shop, music store and a 1939 World's Fair Bar. Plan to take your time and enjoy it.
Must-See Exhibits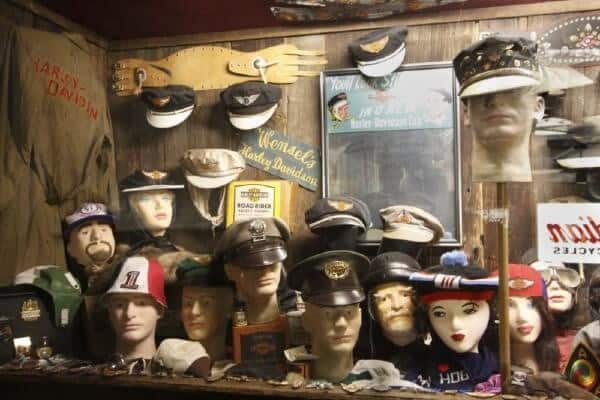 Everyone has different interests, but no worries, you will find something for everyone. Here are our favorites over several visits. Let us know your favorites!
Everyone has different interests, but no worries, you will find something for everyone. Here are our favorites over several visits. Let us know your favorites!
Even if you think you don't like motorcycles, you will love these. There are over 100 vintage motorcycles, including some of the most rare and desirable ones, like a 1909 Peugeot, a 1917 Harley Davidson with sidecar, and a 1930 Harley. There is even a Moto Guzzi Dump Truck (a motorcycle inside of a truck).
Make sure you visit the military display, complete with a foxhole, a '45 NOS Military bike, and a 30 caliber machine gun. It is complete with a palm tree draped with Spanish moss. What covers this exhibit? A 1940 Military parachute draped over the exhibit!
From floor to ceiling in the main building are giant circus posters and signs. Displayed around it are many different carousel horses, along with many other animals. You will also find a great variety of vintage clown dolls and other circus related items.
There is a firehouse with a full-size vintage fire engine, and a nice display of fireman's equipment, such as coats and helmets. You will also find a couple firehouse themed motorcycles in the area. Bill added space (a lean-to) after some visitors offered the fire engine that had been displayed in a museum in Harrisburg.
Bill himself. Seek him out and talk to him if he is there! He collected all of this in many trips all around both the US and overseas, and has a story for every item. If you cannot find him, rent the audio tour, and have him guide you through the maze of memorabilia.
Plan on spending at least two hours at Bill's, and don't forget all the outside displays as you drive or walk up the drive (look for the dinosaurs). This is truly a hidden gem of Americana! We are happy to give you directions if you are staying with us at the Inn at Turkey Hill.