There's nothing we like better than buying fresh produce and
products from our local suppliers. And that goes for many of our guests too!
This summer Bloomsburg and other surrounding towns have markets offering a wide
range of foods and more.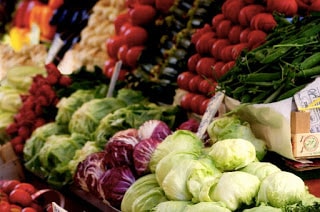 Head to downtown Bloomsburg on any Tuesday, Thursday or Saturday
now through October for its Farmers
Markets. A variety of vendors will be there selling
a selection of fresh veggies and fruits, herbs and flowers,
meats, eggs and baked goods. Homemade salsas and sauces are always a favorite.
Bloomsburg Famers Market
Main and Market streets, downtown Bloomsburg
7:00 am – 1:00 pm
June through October, 2015
Fresh baby greens and salad mixes, beets and radishes are
some of the early produce you'll find at the Berwick Downtown Market. Culinary
herbs and herb teas will also be available at the twice-weekly markets.
Berwick Downtown Market
Market Street, Berwick
Mondays and Thursdays throughout the summer
3:00 pm p 7:00 pm
To get a real flavor of farm fresh foods, head to the farm
for market day!
Forks Farm Market
is held at its 85-acre farm on two Saturdays
a month, from June through October, and gives visitors a chance to meet the
local farmers too. You'll find a variety of vendors and a wide selection of
products for sale including pasture-raised chicken, grass-fed beef and lamb and
free-range eggs from Forks Farm. Several vendors will be selling fresh breads
and pies and baked goods. Local dairies will have milks and delicious cheeses for
sale. Non-food items include holistic health and beauty care products, Alpaca
yarns, and dried flowers. And of course,
fresh fruits and vegetables!
Forks Farm
299 Covered Bridge Road, Orangeville
Second and Fourth Saturdays
June – October, 2015
10:00 am – 2:00 pm
570-683-5820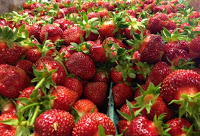 Photo courtesy of Rohrbach's Farm
It's strawberry season and that means a trip to Rohrbach's Farm is a must. While its market is open from April to December, June is a
great time to visit, especially for the Annual Strawberry Socials when you can
pick your own fresh berries, and enjoy slow-smoked meats from Well Done Q, hot
dogs and homemade desserts. Rohrbach's also raises Angus beef and offers it for
sale in a variety of options.
Annual Strawberry Social
June 13, 2015
11:00 am – 6:00 pm
Rohrbach's Farm Market
240 Southern Drive, Catawissa
570-356-7654
Dine at our Farmhouse restaurant during your stay this
summer, and you can sample some of the local produce and products in delicious
dishes created by our chefs. Just give our friendly front desk staff a call,
and they'll be happy to help you with your booking.