Grab your cowboy hat, pull on your boots and head to Benton
for a fun evening at the rodeo! Considered one of the best rodeos east of the
Mississippi, the
Benton Rodeo
is back in town for six days, July 14-19, 2015.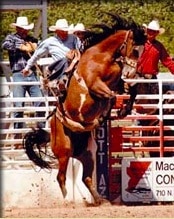 Photo courtesy of the
Benton Area Rodeo Association
Cowboys and cowgirls from across the country and Canada will be riding and
roping, and trying to hang on to wild horses and mean bulls. In between the
action, there will be musical entertainment, as well as events for the entire
family. The Benton Area Rodeo Association sponsors the rodeo to boost local
tourism and provide much-needed funding to local charities, so it's a great way
to have fun and do good at the same time.
You'll find the entire schedule of events at the
BentonRodeo website
, but a few highlights are listed below.
Benton Rodeo
July 14-19, 2015
Benton Rodeo Grounds
385 Mendenhall Lane, Benton
570-925-6536
Entertainment at 5:00 and 10:00 p.m.
Rodeo events at 7:30 p.m.
Fun Horse Show
Wednesday, July 15, 2015
3D Barrel Racing
Thursday, July 16, 2015
Championship Rodeo/PRCA Sanctioned
Friday, July 17, 2015
Championship Rodeo/APRA and IPRA Sanctioned
Saturday, July 18, 2015
Breakfast, 6:00 – 11:00 a.m.
Special Kids Roundup, 10:00 a.m.
Sunday, July 19, 2015
Breakfast, 8:00 – 11:00 a.m.
KJRA Rodeo, 9:00 a.m.
Bull-a-Rama
Visitors who've been at the rodeo before, look forward to
some of the food served as much as the competition, and the variety should keep
everyone in the family happy. Look for fresh-cut fries at the Benton Fire
Company's stand, funnel cakes and corndogs from the Sugarloaf Ambulance
Association, as well as burgers and hot dogs, thick milk shakes, pizza, nachos
and more.
The rodeo grounds in Benton are about a
25-minute drive
from
the Inn. Guests can take PA route 487 to get there, and enjoy a pleasant drive
through the countryside too!