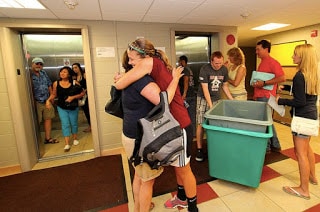 Photo courtesy of Bloomsburg University
Heading off to college for the first time is exciting, scary
and a bit emotional, but one thing
Bloomsburg University
doesn't want it to be
is hectic. So the University has developed a well-honed process to help parents
and kids make the transition as painless as possible. Plan to stay with us at
the Inn, and we'll also help to make the days before and after the move
stress-free.
BU's Move-In Day 2015 actually comprises one week of moving
in, from Monday, August 17 through Friday, August 21. Students are scheduled
for different days and times based on the dorm and floor where they will be
living. But the best part of all is the help students and parents find once they
hit the campus.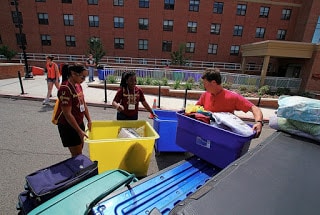 Photo courtesy of Bloomsburg University
All those checking in will be greeted by OWLS, the
University's Orientation Workshop Leaders. One of the nicest things these
upper-class men and women do is unpack cars and haul belongings into the dorms.
Middle-aged backs are happy for that! And more importantly, they help make the
new students' transition into college life go smoothly. They're kind of like
older brothers and sisters who give you the inside scoop and offer advice.
Also greeting students will be Husky, BU's friendly mascot,
and a favorite icon on campus. Freshmen will then have the weekend to get
settled before classes begin on Monday, August 24.
While the students are getting settled, you can come can
come back to the Inn, Mom and Dad, and relax wine a glass of wine on your
patio, or a cool beer in the pub. See, Move-In Day isn't so bad after all!