It's one of the favorite times of the year for all of us at
the Inn! The
Bloomsburg Fair
comes to town September 26-October 3, 2015 and
it's going to be another eight-day fest the whole family will enjoy.
This is the largest agriculture fair in Pennsylvania and
that means great animal events and demonstrations, such as the 4-H Horse and
Pony Drill Team, which performs daily in the livestock arena, and the popular
Horse Pulling contest Friday, September 26, starting at 10:00 a.m.. There will be competitive livestock shows
throughout the week, highlighted by the big 4-H auction on Friday night,
October 2.
A favorite attraction at the fair is always the Sky-Ride.
This ski-lift transport hovers 25-feet above the ground, giving riders a
thrilling—and
scenic—way
to get from the kiddie ride section to the beginning of the midway, where
you'll find a full-fledged carnival! One nice feature is you can pay a one-time
price ($20) for unlimited rides. For those who want even more of a thrill, check
out the helicopter rides just outside the gates.
Once again, the fair is bringing in some fabulous
entertainment every day. An Evening with
ZZ Top and Chase Rice with Cassadee
Pope are just two of the top-name draws. Check out the Bloomsburg Fair
website for a complete concert listing and to buy tickets.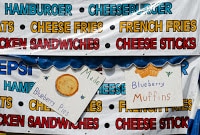 And what's a fair
without all the great food! You'll be able to eat your way happily through the
fair with the likes of BBK pork sandwiches, homemade pierogies, fresh-made ice
cream, blueberry muffins and salt water taffy. And these are just a few of the
goodies you'll find. So bring a good appetite, bring the family and have a
great time.
September 26 – October 3, 2015
620 West Third Street, Bloomsburg
507-784-4949
Gate times: 8:00 a.m. – 10:00 p.m.
Exhibit buildings open 9:00 a.m. – 10:00 p.m.
Vendor stands open 10:00 a.m. – 10:00 p.m.
Admission:
Adults, $7/1-day; $48/8-day
Children 12 and under, free
High school students admitted free, September 29, October 2
Armed services persons, active and retired, with ID, free on
September 28
Seniors, 65 and older with an ID, free on September 28
Fair week is a busy time here at the Inn, so be sure to give
us a call soon to book your stay!