Columbia County is home to the third largest concentration of covered bridges in Pennsylvania, and that's definitely worth a celebration! And that's just what we're having: the Covered Bridge Festival on October 8-11, 2015.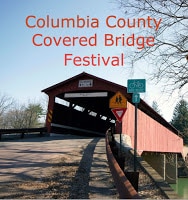 This is a great time to book a room at the Inn—not only can you take part in the festivities, you can enjoy all the changing colors on our property and in the area too.
The festival headquarters will be at the popular Knoebels Amusement Resort, where you'll find all sorts of amusements the family will love. Come Friday and Saturday to enjoy a spin on the Grand Carousel, Giant Wheel, Merry Mixer and other great rides.
These two days are also Agritourism Days at the festival, offering visitors the chance to see domesticated animals ranging from the more unusual red deer to alpacas, to more familiar horses and cows. Locally grown produce, pumpkins, gourds and flowers will also be available.
On Saturday and Sunday, you can enjoy a crafts fair featuring handmade and traditional crafts, turned and carved wood, jewelry, paintings and much more. And everyday will have a lineup of musical entertainment, from late morning through the afternoon.
But it wouldn't be a bridge festival without a tour of our favorite bridges, including one of the only two remaining twin covered bridges in the entire country. Built in 1850 in Forks, PA, the twins, known as the East and West Paden Bridges, measure 79 feet long and 103 feet long respectively. Learn about these bridges during a 2-3 hour guided bus tour either Saturday or Sunday, October 10-11, 2015. This is always a popular event, so be sure to purchase your tickets soon to be assured of a seat.
Thursday – Sunday, October 8-11, 2015
Thursday, Friday, Saturday: 10:00 a.m. – 6:00 p.m.
Sunday: 10:00 a.m. – 5:00 p.m.
Knowbels Amusement Resort
391
Knoebels Boulevard, Route 487, Elysburg
570-784-8278
Covered Bridges Tour
Saturday, 11:00 a.m.
Sunday, 11:00 a.m. and 2:30 p.m.
$15/seat
Reservation required.

The festival is a wonderful excuse to come visit us at the Inn. We're conveniently located to the activities, and offer a quiet and peaceful place to hang out after the fest. Give us a call!