Benigna Creek Winery sits nestled on a high point in the pretty Mahantonga Valley, about an hour's drive southwest of our Inn, with wonderful views looking down towards the Susquehanna River. A trout stream, once known as Benigna Creek and now called Mahantonga Creek, flows along the south side of its vineyard.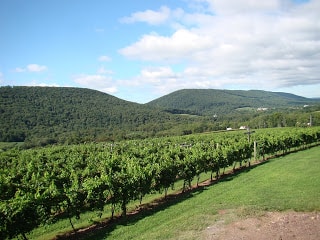 Photo courtesy of Benigna Creek Winery
The winery is owned and managed by the Masser's, a family whose wine heritage can be traced back to Sixteenth Century Germany, and who settled in this valley back in the 1700's. Wine-making is in their blood, and they approach it with a mix of science and art to create high quality wines at affordable prices. Many have garnered awards including Delicioso Sol, a semi-sweet white made with vidal blanc grapes that has wonderful stone fruit aftertones. Sunshine, a sweet white from the same grape, is another award-winner, with tones of pineapple, peach and citrus, and a nutmeg finish.
If you prefer drinking a drier red, try Benigna Creek's Chambourcin Reserve, a full-bodied wine with hints of dark cherry and currants and rich chocolate overtones.
In all, The company makes 22 different wines, including several non-grape varietals, such as the flagship Strawberry, a sweet wine made entirely from the ripe fruit. Blueberry, Blackberry, and Peach are also available—all delicious with dessert.

Logo courtesy of
Benigna Creek Winery
The Winery offers tastings Wednesdays through Saturdays, and also hosts special events throughout the year. Upcoming this fall are a chili cook-off, a painting evening and a girls' night out.
1585 Ridge Road, Klingerstown
570-425-3090
Tasting Room Hours:
Wednesday – Saturday, 11:00 a.m. – 5:00 p.m.
Sunday, 1:00 p.m. – 4:00 p.m.
Chill by the Creek.
Chili cook-off with wine
Saturday, October 17, 2015
12:00 p.m. – 5:00 p.m.
Free admission
Paint and Enjoy Party.Sip wine as you learn the painting process from local artist Connie Higgins.
Friday, October 23, 2015
7:00 p.m. – 9:00 p.m.
$35/person
2nd Annual Girl's Night Out
A casual evening of wining and dining.
Saturday, November 7, 2015
6:30 p.m. – 9:30 p.m.
$23.50/person
Wine touring through beautiful countryside is just one more wonderful thing to do when you're visiting our area. And there's no better base for all your exploring than right here at our Inn!