Two malls, endless hours of fun! For all of our guests who love searching for special treasures, a trip to neighboring Benton is a must. Here you'll find two malls, Benton Antiques and Bakery Antiques, and a wealth of shopping.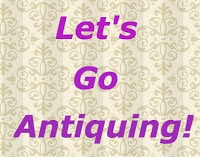 Benton Antiques, which is located in former hardware store, has more than 40 vendor showcasing a wide-range of items—quirky collectibles, fine antiques and furniture, artifacts and so much more. The 12,000 square-foot space is neatly organized for easy maneuvering with divisions such as Americana, Art Deco, tobacannia and ephemera.
Benton Antiques
235 Main Street, Benton
Thursday – Sunday, 10:00 a.m. – 5:00 p.m.
570-925-2384
Just next door to Benton Antiques is The Bakery Antiques Company. This cooperative offers a wealth of high-quality period antiques—such as Arts and Crafts and Victorian styles—as well as a unique selection of Americana and mid-century furnishings. Looking for vintage post cards or antique signs. You'll find them here, along with a dizzying number of other finds. The structure itself is worth a look too. Once an area bakery, its special architecture and charm remain intact, now featuring three floors of spacious showrooms with more than 40 dealers. For those who are interested in having an item appraised, the company will be happy to accommodate.
The Bakery Antiques Company
230 main Street, Benton
Thursday – Sunday, 10:00 a.m. – 5:00 p.m.
570-925-5186
If you enjoy being surrounded by history, you'll be right at home here at the Inn, where our original 1839 farmhouse is now a cozy place to enjoy a relaxing dinner and spend the night. Give us a call, we'd love to have you!