Located in the heart of downtown Bloomsburg, PA,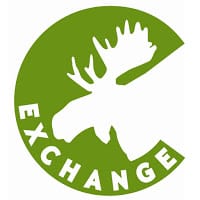 Logo courtesy of The Exchange
The Exchange—formerly known as Moose Exchange—has morphed into a center for art, music, classes, and events of all kinds. It's a great resource for our guests who enjoy a slice of local culture.
The Exchange supports Stairwell Gallery, which has themed exhibitions and shows featuring local artists. (You can see their yearly holiday show now through December 24, 2015.) It also offers art classes and photography workshops. A huge mission of The Exchange is bringing art to the community, and one nice way they do that is with The Art Cart, a cartful of supplies that volunteer artists bring with projects to places such as the Bloomsburg YMCA and Brookdale Bloomsburg Senior Living.
The Exchange
24 East Main Street, Bloomsburg
570-317-2596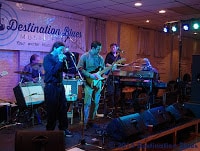 Sweeney Blues Revue
Photo courtesy of The Exchange
But perhaps our most favorite of all the things The Exchange offers—and one of our area's most popular events—comes in the midst of winter: The Destination Blues Music Festival, scheduled next year for February 19-21, 2016. Working with businesses and organizations in both Montour and Columbia Counties, The Exchange pulls together a grand three-day fest featuring top blues talent from throughout the country, performing in more than 15 different venues. The event is dubbed Winter Blues Heaven on Route 11, and we couldn't agree more!
Some of the artists who will be performing include Samantha Fish, who hails from Kansas City, MO; Australian singer/songwriter Harper who mixes harmonica with his native didgeridoo; and knock-out drummer Cedric Burnside. We're proud to be hosting two acts here at Turkey Hill Brew Pub on Friday: Bobby Kyle Band and Swampcandy. For a full listing of talent and times, be sure to visit the Destination Blues website.
Destination Blues Music Festival
Friday – Sunday, February 19-21, 2016
Tickets required for Caldwell Consistory shows on Saturday, Wesley U.M. Church on Sunday.
Before February 12: $25/person for one day; $40/person for both days
After February 12: $30/person for one-day; $50/person for both days
No charge for kids 12 and under
570-317-2596
To enjoy the entire weekend of shows, plan to stay with us at the Inn. We still have plenty of rooms available—and we'd love to have you!