Head out to our Turkey Hill Brewpub any Thursday in March and you'll not only be able to enjoy some great craft beer and pub grub, but some cool music acts as well. Located in a renovated 1839 barn, the pub's intimate setting is tailor-made for kicking back and unwinding, so put these dates on your calendar and come check us out!
March 3, 2016
8:00 p.m.
The Blind Own Band. You'll want to get up and dance when you hear the rousing in-your-face music performed by these talented string musicians from Sarnac, NY.
March 10, 2016
8:00 p.m.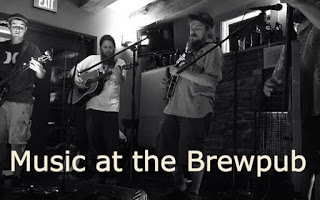 Coal Town Rounders. Great harmonies, technical picking and classic sounds are signatures of this traditional Appalachian-style group from northeast PA.
March 17, 2016
8:00 p.m.
St. Patrick's Day Celebration with Still Hand String Band (shown right). From the coal region of northeast PA, these musicians perform an up-tempo blend of bluegrass with influences from a range of genres.
March 24, 2016
8:00 p.m.
Tom Graham. Just a man and his guitar playing some very cool music—originals, covers and everything in-between.
Want to make your Thursday evening even better? Plan to stay over at the Inn in one of our comfy rooms, and wake up to a delicious full breakfast the next morning!