Come Saturdays in summer, the place to be on Saturday morning is the Ferry Street Growers' Market in Danville. Foodies, families and those just enjoying a good stroll on a nice day gather downtown where some of the area's top growers have set up stands.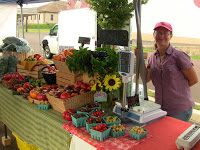 The Market opens for the season on Saturday, May 21, and continues to November 19, 2016. Stop by and you'll find fresh seasonal produce and herbs, flowers and plants, plus meat and dairy, all from local growers and producers. Grab a coffee and buy a breakfast treat or sample wonderful cheeses and fresh berries.
11 top vendors will be there every week, including:
Rohrbach's Farm, tree fruits and berries
Gib's Farm, beautiful cut flowers and edible arrangements
Stoltzfus Pastries, homemade breads and cakes
Valley View Growers, range-free beef and lamb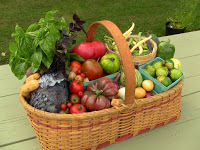 Ballengee Farm, heirloom veggies and all-natural soaps
Stahl's Plants and Produce, fresh seasonal produce
Adams Family Farm, homegrown produce and free-range eggs
Pine Park Produce, home-baked fruit pies and pastries
Green Meadow Dairy, milk, cheese and jams
Meadow View Greenhouse and Produce, fresh veggies and herbs
Bieler's Mini Acres, farm fresh fruits and vegetables
In addition, food vendors will be set up each week so shoppers can enjoy tasty treats throughout the morning. On the May 21, Dan's BBQ will be serving it's delicious beef and pork with sides of slaw.
Ferry Street Growers' Market
330 Ferry Street, Danville, PA
Saturdays, May 21 – November 19, 2016
8:00 a.m. – 12:00 p.m.
Open rain or shine
Danville is about 12 miles from the Inn, so you can enjoy a nice, leisurely breakfast and have plenty of time to poke around the market. Add it to your to-do list when you come visit us!
PHOTOS COURTESY OF JOE BALLENGEE, BALLENGEE FARM