The craft brewers of today have
Yuengling
to thank for
starting the ball rolling…187 years ago. It's America's oldest brewery,
established in 1831 in Pottsville, Pennsylvania, and it is still cranking out
great brews, thanks to of all its loyal fans.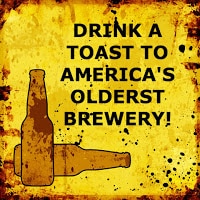 Yuengling is a family business, started after founder, David
G. Yuengling, arrived from Germany. Five generations later, it is the largest
U.S.-owned brewery, with two plants in Pennsylvania (Pottsville and Mill
Creek), and one in Tampa, Florida. The company makes seven year-round beers,
including Lager, Premium, Black and Tan, Lord Chesterfield Ale, Porter and two
Light beers; and seasonal brews, Bock and Oktoberfest.
Tours begin at the Brewery's Rathskeller, which is also
where the tour ends and where you can enjoy samples of beer. In between, you'll
see the brewing area, bottling and canning lines, and then head into
underground tunnels which were once used to store beer before refrigeration—and
closed by the federal government during Prohibition. Tours are free and last
approximately 1 hour and 15 minutes.
In 2013, the company branched out and introduced a line of
barbecue and wing sauces, with their beer as a key ingredient. Stop by the gift shop and you can check them
out, as well as shop for shirts, hats glasses and other items sporting the
brewery label.
Yuengling
420 Mahantongo Street, Pottsville, PA
Tours:
Monday – Friday, hourly from 10:00a.m to 1:00 p.m. and 1:30
p.m
Saturday, first tour, 11:00 a.m.; last tour, 1:00 p.m.
Be sure to check the
Yuengling website for specific hours on the date you want.
Gift Shop:
Monday – Friday, 9:00 a.m. – 4:00 p.m.
Saturday (April – December), 10:00 a.m. – 3:00 p.m.
570-622-4142
Here at the Inn, we're big fans of beer, and fortunate to
have our own brewery onsite. Come visit us soon, and enjoy sampling a beer or
two at our Brew Pub.