The real start of summer to area baseball fans is when the Williamsport Crosscutters take to the field for the season opener, June 17, 2016.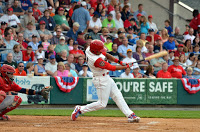 The team, an affiliate of the Philadelphia Phillies, plays in the second oldest minor league ballpark in the country. Completed in 1926, .the field's original dimensions were generous by today's standards, with home plate to centerfield at 450 feet. First named Bowman Field after prominent business owner and sports fan, J. Walter Bowman, the name was recently changed to BB&T Ballpark at Historic Bowman Field.
Over the years, the team name and its relationship with major baseball has also changed. Formerly known as the Williamsport Grays, the team switched names when it switched pro affiliations—including Athletics, Tigers, Cubs, Mets, Pirates, and Phillies, their affiliate since 2006.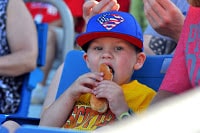 Taking in a game on a nice summer day is always a treat, an affordable one as well, as tickets are just $5 each. Inn guests can hop on I-80 to US-15 to reach Williamsport, about a 50-minute drive. You can purchase game tickets can be purchased at the ballpark box office. Tours are also available for groups of 10 or more. The 2016 season runs from June 17 to September 5.
Williamsport Crosscutters
BB&T Ballpark
1700 West Fourth Street
570-326-3389
General Admission Tickets: $7/Adults age 13 and older; $6/Seniors and children 5-12; $9/Reserved Box Seat/Age 5 and older
It's not too early to make your summertime plans, whether they include baseball, touring or just relaxing. In fact, now's a perfect time to call to arrange a stay at the Inn!
Photos courtesy of Williamsport Crosscutters