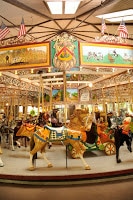 It's a ritual of summer: pack the family in the car and head to the amusement park. When that park is Knoebels, you're in for a real treat!
About a 30-minute drive from our Inn, Knoebels is America's largest, free-admission amusement park. It offers something for everyone—and it's all fun. Be sure to check out The Grand Carousel (a particular favorite of ours). It's a magnificent work of art, beautifully carved with 63 horses that span four-across, plus three chariots, and three organs. No matter your age, it's a delight to ride. Carousel fans will also want to visit the Carousel Museum, located near the Tilt-A-Whirl. It features more than 50 carousel figures, scenery panels, and other memorabilia dating back to 1870.
If white-knuckle thrills are more your style, Knoebel's has
a selection of rides that spin, twist, flip and fly, including roller coasters
that are guaranteed to get your heart racing!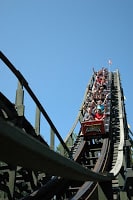 On a calmer note, you can enjoy museums, an eagle habitat, miniature golf, and an Americana section with live demonstrations by a blacksmith and logger. There's also a water park with four slides and tunnels. And of course, you'll find plenty of games to test your skills.
There's an abundance of food too, from a full-service restaurant to carnival classics such as funnel cakes and kettle corn. A gift shop, general store and other shops offer an array of gift and novelty items.
Knoebel's
391 Knoebel's Blvd, Route 487
Elysburg, PA
Open May 25- October 31, 2016
Hours vary, so be sure to check the website (Or ask our
Front Desk Staff, they'll be happy to help you).
Ride ticket books
Available in $5, $10 and $20. Each coupon is worth 25¢.
Water Park fees
Swim & Slide: $14.50/general, $12.50/ages 2 – 11;
evening special, 5:00 – 8:00 p.m./$9.
Swim only: $7/general, $5, ages 2 – 11
Make our Inn your base for adventure. After a long day at
the park, you can enjoy a restful evening away from the hustle and bustle. We'd
love to have you!Images courtesy of Knoebels.