There's just no better way to enjoy a leisurely summer day than floating down a river. And when you're visiting here in the Bloomsburg area, that means heading over to the reliable folks at Canoe Susquehanna.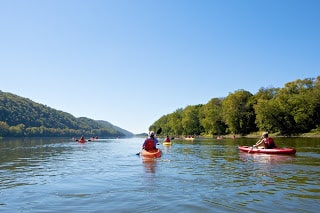 Image and logo courtesy of Canoe Susquehanna
Canoe Susquehanna's experienced guides and well-planned trips are why it's a perennial favorite. Tours are taken in either easy-to-maneuver recreational kayaks or the company's 26-foot-long Big Canoes, with guides who provide the instructions you need to feel comfortable on the water. Most of the trips are on the Susquehanna River and centered in the Lewisburg, PA area (about ½-hour from the Inn), with a variety of lengths and sights. Here is a sampling of what's available.
Buffalo Creek is a relaxing 4-hour paddle that takes you through a stunning section of the river that's more narrow, with a nice canopy of trees.
On the Peace of the Susquehanna, you'll enjoy a 7-mile trip that has you paddling past a peregrine falcon nesting area, under a railroad bridge and around the end of a World War II dam. Enjoy an island rest stop mid-way.
Choose the McKees Adventure and you'll get to run McKees Falls, a small set of ledges at the end of the trip.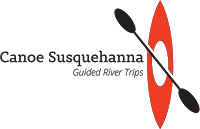 There are a dozen trips to choose from, with something for all age groups. All trips include equipment, instructions and a shuttle back to your starting point. The website will give you a full listing, with explanation and pricing. The company does not have a main retail space; tours meet at different locations, at the beginning or end of a route.
Canoe Susquehanna
570-524-7692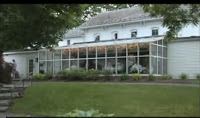 Stay with us at the Inn and you'll be centrally located for a river trip, as well as touring some of the great little river towns along the Susquehanna. You'll also enjoy a peaceful place to relax at night—a wonderful change of pace from crowded chain hotels!