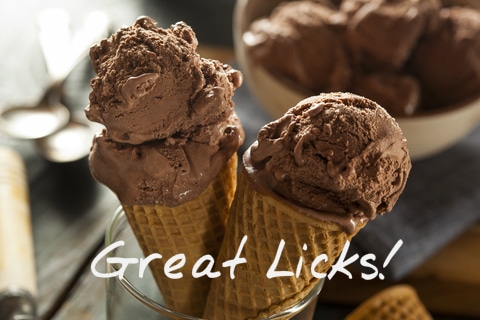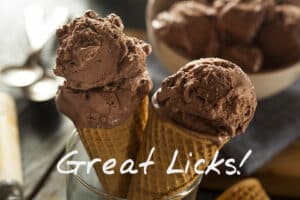 Summer isn't summer without eating ice cream, so here's the scoop on where to indulge when you're visiting Bloomsburg and surrounding area. From ice cream to frozen yogurt and Italian ice—these places are your top licks.
Look for Rosie the Cow on the sidewalk in downtown Bloomsburg. That's the signal Brennan's Big Chill is open and serving their choice of 42 ever-changing flavors of homemade ice cream. New flavors to try this summer include a decadent Bananappeal (banana ice cream with peanut butter cups), delicious Black Cherry Chip, and irresistible White Chocolate Raspberry Temptation. Conquer the Big Chill – 8 scoops of ice cream, 4 toppings, whipped cream and 1 cherry – and you can most definitely earn your 15 minutes of fame, not to mention a t-shirt.
Brennan's Big Chill
232 Iron Street, Bloomsburg, PA
570-387-1988
Step inside Hunter's Dairy Freez, a family-owned and operated store in Danville, PA, and you'll feel transported back to a mid-century ice cream store. The old-timey atmosphere matches the shop's old-fashioned treats with 21st century flavors – cappuccino milkshakes, blueberry sundaes, or a Flavorburst cone of Cotton Candy. They also have a menu of diner food, and shaded benches outside under the trees where you can enjoy your meal. A playground for kids adds to the fun.
Hunter's Dairy Freez
952 Montour Boulevard, Danville, PA
570-275-5522
Bruster's Real Ice Cream in Williamsport invites visitors to "Unplug, Indulge, and Relax". That's easy to do here, where all kinds of traditional desserts are transformed into yummy ice creams. Key Lime Pie, Southern Banana Pudding, and Red Velvet Cake Batter are three of the creative scoops you'll find. Chocolate Mudslide, a sweet mix of dark chocolate ice cream with swirls of marshmallow, Oreo cookie bits and fudge brownie chunks is a favorite. Though Bruster's is a chain, all the ice cream is made at the store.
Bruster's Real Ice Cream
1600 E 3rd Street, Williamsport, PA
570-326-5040
Now you have the scoops on finding summertime's favorite treats in Northern PA, but if you think these are indulgences, you'll find even more during your stay at the Inn!