October in Northeastern PA means fall festivals, country hayrides, pumpkin picking, and amazing corn mazes, all within less than a half hour's drive from Bloomsburg. You can enjoy Pumpkin Fall Festivals every weekend at Rorhbach's Farm Market in Catawissa, PA, where you'll find pumpkins for picking, apples for chucking, hayrides, a corn maze, plus entertainment and kid's activities on Saturdays. You'll get hungry in the crisp fall air, but don't worry – there's Kettle Corn, funnel Cakes, Hot Sausages, Stromboli, and more, plus Big Dan's BBQ and Rohrbach's Hot Apple Dumplings, of course! Don't forget your flashlight – Flashlight Night in the Corn Maze begins at 7:00 p.m., and the last wagon leaves for the maze at 8:30 p.m.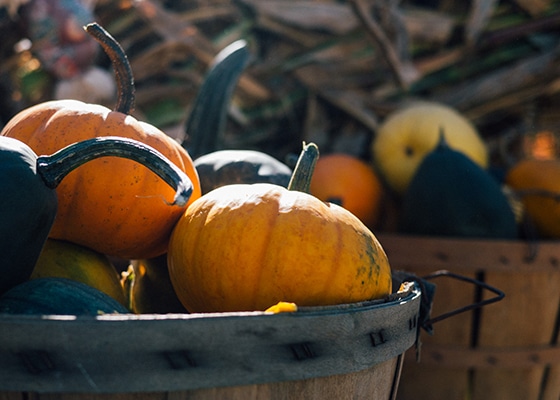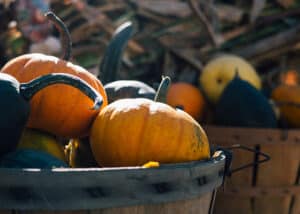 At Kohl's Stony Hill Tree Farm in Milton, PA, you'll enjoy the beautiful autumn foliage on a half-hour hayride on country roads and through an historic covered bridge. Back at the Farm, try your luck at pumpkin chucking and the corn cannon before you pick out a perfect pumpkin for your Halloween Jack O' Lantern. Then get ready to wander through their corn maze, where you can choose a mile-long stroll or the 2.9 mile challenge.
Still want to be a-mazed? Lose yourselves in Hannah and Mylee's hand-picked corn maze at Retherford's Village Produce & Antiques in Benton. PA. When you've found your way out of the maze, choose your own pumpkin to paint or go on a hayride with Rich DuMond and his team of horses (weekends only).
Of course, October also means crisp nights, autumn colors, comfort food, and cozy evenings by the fire, and there's no better place to enjoy them all plus a fall festival than the Inn, Farmhouse, and Brewing Co. at Turkey Hill. We're located in the heart of all these fall festivities, so book your October weekend getaway now!
Rorhbach's Farm Market Pumpkin Fall Festival
240 Southern Drive, Catawissa, PA, 17820
Phone: 570-356-7654
Open Saturdays & Sundays September 17 – October 29, 2016
Hours: Friday 3:00 pm – 7:00 pm. Saturday 11:00 am – 7:00 pm
Corn Maze: Adults $8.00; Ages 4-11 $5.00; Ages 3 & under
Free Public Hayrides: Free
Kohl's Stony Hill Tree Farm
3021 Mexico Rd., Milton, PA, 17847
Phone: 570-437-3442
Open Fridays, Saturdays, Sundays September 16 – October 31, 2016
Hours: Fridays: 3 pm – 9 pm Saturdays: 11 am – 9 pm Sundays: Noon – 8 pm
(Flashlights required after dark)
Corn Maze: Adults $ 8.00; Ages 5-12 & Seniors $5.00; Ages 4 & under Free
Hayrides: Adults $3.00; Ages 5 -12 $2.00; Ages 4 & under Free
Hannah and Mylee's Corn Maze
Retherford's Village Produce & Antiques
4095 Maple Grove Road, Route 487, Benton, PA, 17814
Phone: 717-756-2287
Open daily September 29, 2016 – October 31, 2016
Hours: 10:00 am – 7:00 pm
Corn Maze: Adults $5; Ages 4-12 $3; Ages 3 & under Free