Fall's arrival at the Inn, Farmhouse, and Brewing Company at Turkey Hill in Bloomsburg, PA, brings not just crisp starlit evenings, brilliant autumn leaves, and blazing fireplaces, but the bounty of the season's late harvest to the Farmhouse Restaurant's seasonally changing menu. Executive Chef Jim Hahn creatively highlights local organic and free-range ingredients throughout the menu, from starters, tapas and small plates to dessert. Guests who wish to dine on gluten-free or vegetarian meals will be pleased with the variety of choices.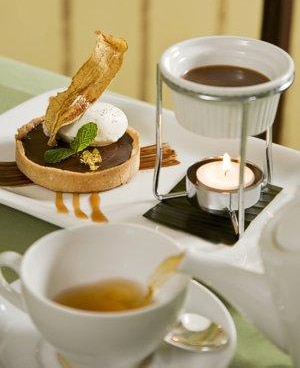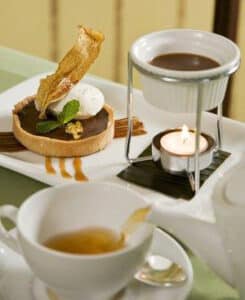 Starters just right for chilly evenings include a seasonal Wild Mushroom Risotto topped with Parmigiana Reggiano, Crabmeat-Bacon Macaroni& Cheese, or perhaps a steaming bowl of Bourbon Pumpkin Bisque. Choose the House Salad with apple cider vinaigrette or the locally grown Kale Salad with fried garbanzo beans, roasted red beets, pistachio nuts and goat cheese – both are great vegetarian and gluten-free choices, too. Fall-themed entrees include the aptly named Chicken L'Automne, with walnuts and wild mushrooms, and a maple infused cream sauce classically prepared Osso Bucco, Roast Duck Cumberland with Currant-Apple Dipping Sauce, and Hazelnut Crusted Chilean Sea Bass, finished with a hazelnut coffee-cola cream sauce. Complement your meal with a wine from our extensive list, or enjoy a hand-crafted beer from our brewery, and don't forget to leave room for dessert!
Dining at our intimate country restaurant is a perfect addition to your romantic getaway this fall, so be sure to include reservations at the Farmhouse when you're booking your stay at the inn.
The Farmhouse at Turkey Hill
Hours: 5:30 p.m. – 8:30 p.m.
Reservations required – call 570-387-1500