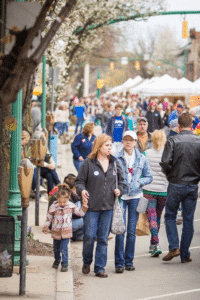 What better way to celebrate spring than with an entire evening of live music, only half an hour from the Inn, Farmhouse, and Brewing Company at Turkey Hill in Bloomsburg? Lewisburg Live! is the place to be Saturday, May 13, 2017, for the grand finale of Lewisburg's Celebration of the Arts. It's a musical feast of eight bands playing live music in different venues along Market Street, sponsored by the Lewisburg Arts Commission. Best of all, it's free! Here's what's in store:
DePotorLand is its own musical destination, using many different styles, and transforming some into others – country to rock, rock to swing, and more. Listen to them from 6:00 – 8:00 pm at Cherry Alley.
Little Paris Jazz Trio takes you to a different destination – the French quarter of Paris in the 1930's – to hear early Americana jazz and blues standards. Make your musical escape to Paris from 6:00 – 8:00 pm at Pronto.
Greg Burgess and Bev Conrad's piano, fiddle, banjo and vocals will take you back in time to "the good old days, when the piano was king of the family parlor and the fiddle perched on top ready to be taken in hand and set toes tapping". Tap your own toes to Americana and Celtic tunes from 6:30 – 8:30 pm at Mercado Burrito.
If dancing is more your style, Sweeny Blues will be playing blues and rock from 6:30 – 8:30 pm at the Barnes & Noble Bookstore, Bucknell University.
Enjoy the jazz guitar of Mark Tomeo, formerly the pedal steel guitar player of Rubber Rodeo, from 7:00 -9:00 pm at Siam Café.
Billy Kelly and A Band features not only Grammy nominee Billy Kelly, but Rick Buck on bass, Steve Adams on keyboards and Jake Kline on drums. You'll be in for "A dang good time" at Civil War Cider from 7:30 – 9:30 pm.
Gabe Stillman and the Billtown Giants bring their interpretations of American Blues to Lewisburg Live! after celebrated appearances at Blues Festivals throughout Pennsylvania, including Bloomsburg's own Destination Blues. Listen to their original compositions as well as blues classics from 9:00 – 11:00 pm at Bull Run Tap House.
Close the evening and the Celebration of the Arts with Doug McMinn Blues from 10:00 pm until midnight at the Towne Tavern. They promise to "tear it up" for a grand finish to the two weeks of festivities in Lewisburg.
Whether blues, jazz or rock is your style, make plans for your spring getaway soon. In addition to music, you can fill your weekend with hiking, golf, art exhibits, shopping, and more, surrounded by the beautiful spring landscape of Pennsylvania's Susquehanna River Valley.
Photo courtesy of Lewisburg Arts Council