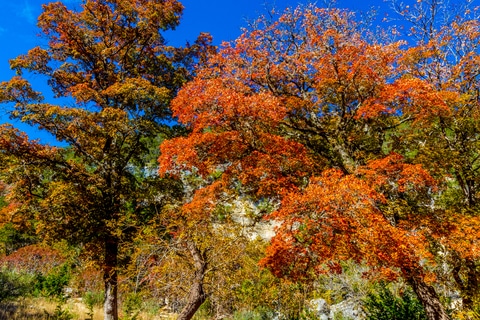 As our fall foliage season reaches its peak around us at the Inn, Farmhouse, and Brewing Co. at Turkey Hill, make sure your stay includes a scenic drive and a walk or hike to enjoy October's colorful leaves and crisp fall air. You'll find many options within a 30 minute drive of Bloomsburg. Here are just two:
The Montour Preserve, less than 20 miles to the northwest, makes a great choice for walks or hikes. The drive takes you along Route 44 toward the Endless Mountains. When you arrive at the Preserve's Visitors' Center, you can choose from 14 miles of trails, ranging in length from a quarter-mile to four miles or more. Many offer interpretive information about natural and historical features along the way. Most traverse several habitats with a variety of plant and animal life. The popular Chilisuagi Trail (3.9 miles) encircles Lake Chillisquaque, and its connection to West Branch Trail extends the hike to a total of six miles. Shorter walks beginning near the Visitors' Center include: the Laura Smith Trail of History (0.2 mile), the gravel Hummingbird Trail (0.2 miles), accessible for those with limited mobility, and the mulch-surfaced Braille Trail (0.5 miles with aids for the visually impaired). The Goose Woods Trail intersects the Braille Trail to create a mile-long walk. After a picnic lunch, you can return to Bloomsburg via Routes 254 and 42, for a total driving time of about an hour. Lake Chillisquaque
is a great location for canoeing enthusiasts as well.
Another great choice is the Roaring Creek Tract, a part of the Weiser State Forest to our south. The Tract offers about 40 miles of shared-use trails popular for hiking and mountain biking. From the Inn, you can drive to one of two trailhead parking areas – one on the east side of the Tract (Route 42), or one on the west side (Route 54). The drive time is about one hour. The popular Roaring Creek Trail joins the two ends of the Tract on an eight mile hardened surface trail. You'll find a picnic area located at McWilliams Reservoir, about halfway from either end of the Trail. About six miles of Miner's Paths follow the routes traveled by miners over a century ago from their homes nearby. Many other trails access more remote areas of the Tract. Three different reservoirs, Bear Gap on the west, McWilliam's Reservoir midway, and Kline's Reservoir off Route 42, provide opportunities for canoeing and fishing as well a pause from hiking.
Autumn colors are fleeting, and November will arrive too soon, so don't wait to make your plans for your foliage getaway. At this time of year, there's no better way to end your day of outside adventure than a cozy room at the Inn and delicious dinner at the Farmhouse or the Brewing Company. Just don't forget to pack your walking shoes and camera!